Larry Bird, "The Hick from French Lick," was a stunning player over 13 seasons with the Boston Celtics from 1979-1992. He was a 12 time All Star, the MVP for three consecutive seasons, two time Finals MVP, a three time NBA champion, and he was inducted twice into the Hall of Fame as a player and a member of the 1992 Dream Team.
Additionally, he coached the Indiana Pacers from 1997-2000. After winning the Coach of the Year Award in 1998 and coaching the Pacers to an NBA Finals, he left coaching despite the success. Bird believed a coach should serve for no longer than three years, and he stuck to his word.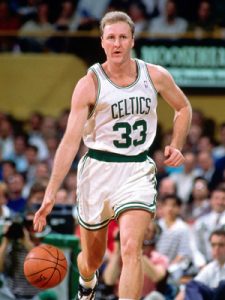 Lastly, Bird was named President of Basketball Operations for the Pacers from 2003 to 2012 and 2013-2017. He was awarded Executive of the Year in 2012.
Thus, Bird is the only player to win Rookie of the Year, MVP, Finals MVP, Coach of the Year, and Executive of the Year. Multifaceted may be selling Bird short; he is some sort of basketball genius.
"Larry Legend" was born in 1956 in Indiana. Growing up in French Lick, Bird was raised in a poor family, which he later cited as motivation. Tragically, his father committed suicide while he was in high school, and Bird said that basketball was his escape.
After dominating the high school competition, Bird entered Indiana State University. Indiana lost to Michigan State led by Magic Johnson. It was the beginning of a rivalry that would define and vitalize the NBA for a decade.
Bird's career as a player is best remembered by two aspects. First, he was known as the grittiest and fiercest competitor on the court. Legends of his trash talk are repeated today. Secondly, the Celtics versus the Lakers led by Johnson is the most important rivalry in basketball. The television ratings of the several Lakers-Celtics Finals led the NBA into the modern day.
Bird has some great cards. We start with his rookie, which is fittingly connected to Johnson.
1979-1980 Topps Larry Bird RC, Magic Johnson RC, and Julius Erving
Larry Bird's rookie card comes as one for  three. Magic Johnson and Julius Erving are alongside Bird with perforated edges. It is fitting and valuable that Magic Johnson and Larry Bird's rookie cards are physically connected.
When the set came out, it was not very popular. Since then, it has been used by multiple companies. The value of the card is bolstered by the uniqueness of the design today.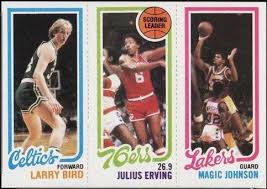 The entire 1981 Topps is in the three for one design.
There were 176 cards in the set, featuring 264 individual basketball players. Bird is on six different cards on the set. His most valuable card is by far the one  with Johnson and Erving.
The cards are not commonly found intact today. Most of the young collectors split up the cards into three. The cards must not be separated to be official. There are also numerous print defects. This is a very condition sensitive card, and the cost goes up dramatically with each grade.
The Larry Bird RC with the other two valuable cards alongside is the most expensive card in the 1981 Topps. While most cards from the set can be purchased for a few hundred dollars in Gem Mint condition, the Larry Bird and company card sold for $125,200 in 2018 in Gem Mint condition.
Due to the quality issues, the price quickly drops to $5,000 for a PSA 9, and a PSA 8 will sell for less than $1,000.
1980-1981 Topps Larry Bird
Larry Bird is card #4 out 198 standard sized cards in this set. Topps split distribution towards national, East, Midwest, and West. Larry Bird's card was nationally distributed.
Bird is shown in his pregame warmup with the crowd in the background. There is a green border that blends nicely with the Celtic's green coloring, and a white border nests on the outside. The backs have statistics and a bio.
As cards enter the modern era, there are plenty still available today. There are 890 registered by PSA as Mint, and 56 in Gem Mint. Given the higher numbers available, this card is worth about $650 in Gem Mint condition, and anything lower is less than $50.
1983-1984 Star Larry Bird
This card deserves to be mentioned, but the 1983 Star set is generally derided by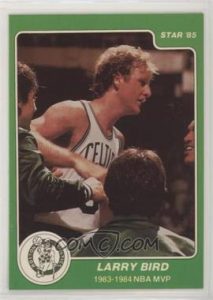 collectors. Star Company had a low print run and limited distribution for this set. Furthermore, reprints are common and difficult to track down. Some grading services even refuse to grade the set due to fraud.
However, the card is rare, and it fills the gap from the 1981 Topps to the 1987 Fleer. Due to fraud, it is difficult to track prices, but the card is most likely very cheap since it is rejected by most collectors. For a Larry Bird collection, this is a feather in the cap.
1986-1987 Fleer Larry Bird
This is a major set for basketball cards as it has the only recognized Michael Jordan rookie card. It was a huge year for Larry Bird too, as he won his third Championship, second Finals MVP, and third consecutive league MVP.
There are 132 cards in the set of standard size. There are several other Hall of Fame rookies as it was the first basketball set widely distributed in a few years.
There are plenty of copies out there on the secondary market. A Gem Mint is not too pricey, and two PSA Gem Mint 10 cards sold for $1,000 apiece in 2018. The prices quickly fall with each grade, and a Mint condition card can be bought for less than $100.
1987-1988 Fleer Larry Bird
Fleer had a much weaker rookie crop this year, but the 132 card set features numerous Hall of Famers.
Despite the surrounding company of the previous Fleer set and Larry Bird's monster year for the previous set, this card is actually about as valuable as the iconic 1986-1987 Fleer. This is because the 1987-1988 card is much more difficult to find in high grade. There are 32 cards of Larry Bird registered for the 1987-1988 Fleer, while the previous year had over 100.
The pricing makes sense in which Bird's Gem Mint card is worth over $1,000 at about $1,200 or so. The price drops hard where a PSA 8 or lower would cost about $10 or less.
Conclusion
Larry had an excellent career over all levels of basketball. He was a great player with the accolades to show for it. Owning a solid card of Larry Bird is having a memory of the trash talking Hick From French Lick.