When Mike Trout briefly entered Major League Baseball in 2011, his rookie card and prospect cards were already coveted. He exceeded the hype, and as a young player, he has had extraordinary numbers which translated into two AL MVP's.
In March of 2019, he signed the largest sports deal in North American history, which came to $426 million over 12 years. Still, you could make an argument that he is worth more.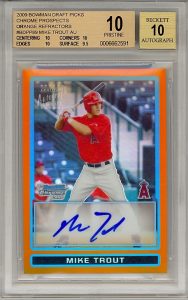 A few days after turning 28, his numbers already stood at .306 batting average, 1,304 hits, 279 home runs, 740 runs batted in, and 198 stolen bases. He is a rare player in today's game because he is praised by those who use sabermetrics as well as the old fashioned eye test.
From the expectations of his beginnings, including Minor League Player of the Year in 2011 and ROTY in 2012, Trout has managed to exceed the pressure. His cards are rather valuable for a player not on the verge of retirement. There is a slew of potential factors that could be dangerous from injuries to personal issues.
Trout has established himself as a fantastic player, but it is too soon to tell if he will be a legendary great. Therefore, his cards are very risky, and of course, with great risk comes the possibility of a big payout. It is difficult to tell if he is overvalued by hype or undervalued by unnecessary skepticism. Regardless, his cards are being traded fiercely.
We will take you through some of his best cards. The cards featured in this article are from his 2009 prospect season or his 2011 rookie season because they are the most valuable. Mike Trout was a highly sought after card in 2009, but not so much in 2011. Players such as Trevor Bauer and Dante Bichette Jr. were the major finds of 2011 rookies.
This is because Trout was underwhelming in his 40 game 2011 season with a batting average of .220. As things quickly changed, investors everywhere kicked themselves for getting rid of their Mike Trout rookies too soon.
Let us help you with some information about Mike Trout rookies so that you don't end up kicking yourself too.
2009 Bowman Chrome Draft Prospects Mike Trout
This is the most sought after Mike Trout rookie card. The autographs on these cards can sharply increase the value, and there are only 500 numbered. The main issues for the quality of the cards are surface scratches, dents on the corner (though the stock is of high quality), and poor centering.
The 2009 Bowman Chrome Draft Prospects Orange Refractor is the most valuable, and it was limited to 25 cards. A BGS 9.5 was sold for $550 in 2010. The same card has been flipped several times, and it was auctioned off for $186,580 in 2018 which makes it one of the most valuable cards in the modern era.
There is one PSA 10 and one BGS 10 that are known. Neither of them has been up for sale, but it is speculated that it could demand a quarter of a million dollars. An interesting side note is that the existence of only one of a PSA 10 and one BGS 10 could be an interesting test of the market as to which grading service is held in higher regard.
Additionally, the blue refractor was numbered at 150, and it can go for $40,000+ in gem mint condition. A gold refractor can go for $100,000.
Meanwhile, a red refractor was numbered at 5, and there is only 1 copy of a superfractor. The price of these cards is hard to come by.
2011 Topps Update Mike Trout Rookie Card
The price of this card is not what makes it special. It has sold for about $900 to $1000 in 2019.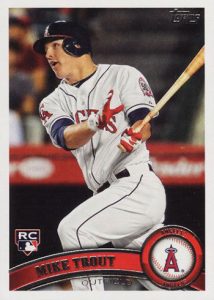 Two parts make it significant. First, it has steadily risen from an average price of $150 in 2016. A 700% increase in value in three years is a meteoric rise. Secondly, it is not rare. PSA alone has graded 18,000 copies.
While there are a few parallels with the Cognac, Diamond, Anniversary, and Blue Border, there is no special insert, autograph, or chrome. It is simply a regular rookie card. This makes it very popular with old school collectors.
It is a testament to Mike Trout's value. His debut in 2011 was well short of spectacular. He was written off by many, and this card was sold at an alarming rate. Many successfully bet on him, and it has paid off. This rookie card shows the overall value of Mike Trout's cards because it is a boring old card produced in high numbers in 2011 that is selling on eBay for a grand.
It needs to be mentioned that this card is highly susceptible to forgery. When buying this card, we recommend extra caution.
2009 Bowman Sterling Autograph
Although it is overshadowed by the other set of Mike Trout autographs in the Bowman Chrome of the same year, this autographed RC is one of the more valuable of Mike Trout's cards. The Gold refractors are the most popular around, and they are numbered at 50.
If buying this card, make sure that you are receiving a quality signature. The card is known for an off signature here or there, and it can strongly affect the price. Another major downside is that the autograph is on a sticker. Poor centering is common, but dings on the corners and sides are not frequent.
2009 Donruss Elite Extra Edition Rookie Autograph
These cards are uncommon. Only 149 exist. They do not sell for a great deal as a PSA 8 could go for a few hundred dollars. It does lack official logos (checkout the picture of Mike Trout which hides his helmet and jersey), and Donruss does have a reputation of financial issues, but the rarity makes up for it. Historically speaking, this lack of official licensing can be overlooked. However, the cards have black borders and horrible card stock, so buyers need to be aware of the quality of each card.
2011 Bowman Chrome Mike Trout Rookie Card
The standard version of this card comes close to a grand even though there are nearly 400 Gem Mints graded by PSA. The basic card is similar to the 2011 Topps Update, but unlike the Topps, there are many refractors that dominate the market. There are only 16 gold refractors registered by PSA, and 5 of those are PSA 10. Gem Mint can go for $8,500.
2011 Bowman Sterling Mike Trout Rookie Card
The 2011 Bowman Sterling Mike Trout is another true rookie card. It shows Mike Trout in the Angels' uniform in his first season. There are some nice refractors. The black refractor is numbered at 25. Many have autographs. Though they are on clear vinyl stickers, the white background helps to create an illusion.