Mario Lemieux was born in 1965 in Quebec, Canada. Over 17 seasons in the NHL, Lemieux earned the reputation as one of the greatest players in hockey history.
Nicknamed "The Magnificent One" and Super Mario, Lemieux was a star in the Quebec Major Junior Hockey League through his 282 points in 70 games at 18 years old. He was the consensus first pick of the 1984 draft, and he was selected by the Pittsburgh.
Lemieux had a stunning rookie season with 100 points. He was an All Star and was awarded the rookie of the year award, the Calder Memorial Trophy. Until his injury ridden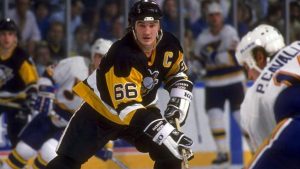 1990-1991 season where he missed 54 games, Lemieux had over 100 points per season for six years, as well as being named the MVP in 1988. Despite his personal success, the Penguins struggled early in Lemieux's career, and they had one playoff appearance which was a second round exit.
The Penguins gained Jaromir Jagr and Paul Coffrey, and the Penguins earned first place in their division in the 1990-1991 season, shocking the league because they were missing Lemieux for 54 games. He was able to return for most of the playoffs, and the Penguins won the Stanley Cup. Lemieux was awarded playoffs MVP. The Penguins repeated the next year, and Lemieux repeated as playoffs MVP.
The next season of 1992-1993 was beyond impressive for Lemieux. Despite missing 20 games due to a Hodgkin disease diagnosis and enduring the fatigue due to radiation, Lemieux was awarded the MVP of the regular season. After missing the 1994-1995 season due to illness, he returned the following year to lead all scoring categories and win the MVP again.
Lemieux understandably retired in 1997, and his absence broke the back of the Penguins' finances which forced bankruptcy. Lemieux led a group of investors to buy the team. He returned the rink to become the first player-owner of the NHL. Lemieux was past his prime, but he made the All-Star team, led a Conference Finals run, and captained the Canadian Olympic team in 2002.
Lemieux showed substantial skill, poise, and perseverance. He is a true hero to the city of Pittsburgh for leading the Penguins on the rink and in the boardroom. While many of his cards are cheap due to his playing era, there are a few cards that do well to represent his character.
1985 Mario Lemieux Rookie Card
Positioned at card #9, Mario Lemieux is featured in his Penguins uniform, and his name captions the photo with the Penguins logo in the upper right hand corner. There are 264 total cards of standard size in the set. Lemieux's rookie card is a key.
Collectors need to take caution in buying this card. For those without expertise, counterfeits can easily fool. Counterfeits are well known to proliferate the market for Lemieux's best rookie card. Luckily for collectors, authenticators are confident that they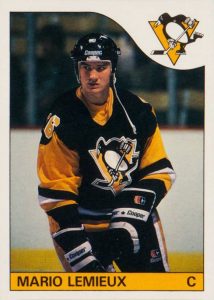 can spot a fake, so strong caution is needed in buying raw copies.
There are many cards of Lemieux from this set available. PSA alone has 3,364 graded and registered. 48 are Gem Mint, a whopping 558 are Mint, and over 1500 are Near Mint – Mint. Gem Mint copies have steadied for around $10,000 for the last few years after peaking and falling since 2017. Mint copies are sold frequently, and they can be purchased for around $1,000, though a crafty buyer could purchase one for closer to $800. NM-MT sell for a few hundred, and prices drop strongly from there.
1985 Topps Mario Lemieux Rookie Card
This is the other recognized rookie card of Mario Lemieux. The Topps set had identical design except for the addition of French text on the O-Pee-Chee card, but it is considered a secondary brand to O-Pee-Chee today for hockey cards, even though the companies worked together to fully cover the United States and Canada. There are 165 cards in the Topps release.
The population report from PSA is similar to the O-Pee-Chee. The Topps Lemieux has 3,652 registered copies, 72 are Gem Mint, 868 are Mint, and 1844 are N-MT.
Prices fall sharply from the O-Pee-Chee Topps. This is a frequently traded and legitimate rookie card of Lemieux. Gem Mint copies sold in 2019 for about $2,000 with $1,675 being an outlier. Mint copies were purchased for $200-$300, and NM-MT drop to about $100.
1986 O-Pee-Chee Mario Lemieux
For a highly affordable Lemieux card in top grade, his second year is a good place to look. There are 264 cards in the set, and Lemieux sits at #122. He is shown leaning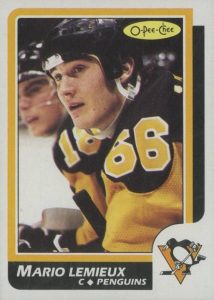 forward while sitting on the bench during a game.
There are 516 cards registered by PSA with 15 at Gem Mint and 69 at Mint. Gem Mint cards are not publicly traded frequently, and PSA estimates their price at $475. The prices of PSA 9's are a bit inconsistent, ranging from $90 to $250 in the last two years. About $150 seems to be an average price for a PSA 9.
1986 Topps Mario Lemieux
As expected, prices drop, the design stays the same, and population is similar for the Topps version. There are 372 registered cards of Lemieux, three of them are Gem Mint, and 57 are Mint. There was one auction price for a Gem Mint card readily available, and that Gem Mint copy sold for $1,225 in February of 2019. Mint copies were regularly sold for under $100 in 2019.
Conclusion
Progressing on in his career and into the junk wax era, many of Lemieux's fall in value, and some are worthless outside of sentiment. His first two years from Topps and O-Pee-Chee are the most valuable, traded, and important.
Lemieux was a remarkable player, and his nickname of Magnificent One was well deserved. He will be remembered for a long time, especially by Penguins fans, because he led the organization to the Stanley Cup and he later saved the team through business acumen. His cards live as representation of his career.