Joe Namath, aka "Broadway Joe," was born on May 31st, 1943 in Beaver Falls Pennsylvania. As a kid, Namath succeeded in multiple sports, and he committed to football upon entering the University of Alabama in 1962.
Namath thrived under the direction of Bear Bryant, who was known for developing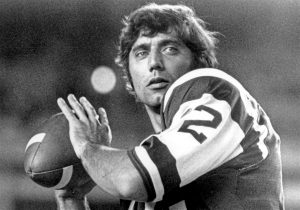 quarterbacks. Additionally, Namath had his first knee injury, and knee injuries would plague the rest of his football career, eventually shortening it.
The AFL and NFL competed fiercely for Namath as a draft pick. Namath was drafted by both leagues, and a bidding war commenced. Namath went to the New York Jets of the AFL for a 3 year $400,000 contract which was an unprecedented sum for a professional football contract, particularly for a rookie.
He began starting midway through his rookie season in 1965. After an uncertain beginning, Namath threw for 4,007 yards in his third season.
Namath solidified his football fame in 1969. The New York Jets were set to face the Baltimore Colts of the NFL in the 1969 Super Bowl. The AFL and NFL had agreed to a merger in 1966, and for the next four seasons, the leagues maintained separated regular seasons, while the champion of each league would meet in the first Super Bowls.
After two dominant victories by the NFL Green Bay Packers in 1967 and 1968, many considered the AFL inferior. The New York Jets were expected to be trounced by the Baltimore Colts.
During the buildup to the Super Bowl, Namath felt that the Jets and the AFL were being deeply disrespected. Three days before the big game, Namath brashly told a group of reporters, "I've got news for you. We're gonna win the game. I guarantee it." The famous guarantee spread across the country. The Jets won 16-7, Namath completed 17 of 28 passes, and he was named Super Bowl MVP.
As a result of this story and many others, Namath was a cultural icon. He made headlines for dating starlets, posing in panty hose in a magazine advertisement, and his bold masculinity. His reputation relied on his passing prowess in which he set records for 300 yard games, and he was also known as a big time club owner of the NYC elite. His resume is diverse, and he even spent time as a spokesperson for Topps.
Namath has several noteworthy cards. They help to immortalize the iconic quarterback, and this article will take you through a few of them.
1965 Topps Joe Namath Rookie Card
The 1965 Topps set is commonly referred to as the "Tall Boys" because the cards measure at 2 ½" x 4 11/16". The set is popular today because the size allowed for larger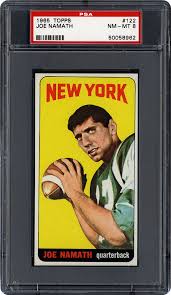 pictures, headings, descriptions, etc.
Joe Namath is depicted in his Jets' jersey with a bright yellow background like the rest of the Jets players. Each team had a unique background, so it was easy to sort by team. Namath was recovering from surgery when his picture was taken. His shoulder pads and jersey were squeezed over his head, and he stood propped up against the wall for the photo.
Namath's card was one of many short print cards. Yet, there are over a thousand Namath rookies registered by PSA. Gem Min and Mint cards are infrequent, most likely due to the unique size. PSA has 5 Mint condition cards registered, and there are no Gem Mint cards registered.
High grade Namath rookie cards are not commonly auctioned. There is a record from February of 2018 of Namath's rookie card in Mint condition selling for $264,000. Namath's rookie card stays competitive as condition decreases, and a buyer would have to go as low as a PSA 3 to buy Namath's rookie for less than $1000.
1965 Jet's Team Issue Joe Namath
This card is considered Joe Namath's lesser rookie. The set consists of 9 Jet's players from the 1965 team. The cards are unnumbered, have a blank back, and they measure 5" x 7". The fronts have large black and white photographs captioned by the player's name and team.
There are a limited number of these cards available today because they were not widely distributed. There are 163 registered by PSA, and most cards are lower grades. There is only one PSA 9 registered. That card sold for $2,134.09 in 2018. Given the rarity and status as a pseudo rookie, prices stay strong, and a PSA 4 sell for $150-$200.
1966 Topps Joe Namath
The 1966 Topps is often overshadowed by the 1965 Topps. The set maintains an enlarged size, as the cards measure at 2 ½" x 4 11/16". The horizontal cards almost look like a television set with the wood grain border and interior rounded corners.
The size and wood grain border created condition issues. Of the 900 cards of Namath registered by PSA, one is graded at Gem Mint, and 11 are Mint. A rare Gem Mint card sold for $14,771.47 in 2010. Mint condition cards have been sold less frequently in recent years. The most recent sale was from October 2019, and the card sold for $2,637.
1967 Topps Joe Namath
Topps had an interesting design for it 1967 release. Joe Namath's portrait is enclosed by an oval border encased by sky blue. The Jets' name is in the top corners, and Namath's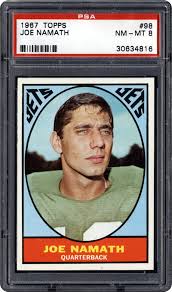 name and position are on the bottom with a red background. The set covers the AFL, and it has 132 cards of standard size.
There are more and higher quality cards for this set than with the larger cards. Gem Mint cards have sold for anywhere between $4,800 and $6,400 since 2008. Prices are more stable and reasonable around a PSA 8, where Namath's card sold for $200 to $300 in 2019.
1968 Topps Joe Namath
There are 219 standard size cards in this set. It was the first Topps set to have both the AFL and NFL since 1961. The set has a solid rookie crop, as well as the first Topps card of many major players. Topps would be the sole producer of American football cards until 1989.
Namath's cards remain valuable into his career. For the 1968 Topps, a Gem Mint card sold for $5,316 in 2017. On one occasion in 2019, a Mint condition Namath card from 1968 sold for $596. For a good idea on regular sales, a buyer has to drop to a PSA 8. There are many registered sales from 2019 where a PSA 8 Namath sold for between $150 to $235.
Conclusion
Namath's cards, particularly those produced by Topps, remain valuable today. There are several more that are important and treasured. However, this article did cover the biggest cards, namely those earlier in his career. 
The guarantee of winning the Super Bowl will be remembered for a long time. Namath's cards will help to keep the borderline-arrogant guarantee fresh in the minds of fans and athletes.