Joe Montana is best remembered for leading his team to a 4-0 record in the Super Bowl. He was also named MVP by the Associated Press twice, as well as earning eight Pro Bowl selections. His playoff performance as "Joe Cool" culminated in playoff records for completions, yards, and touchdowns. As a result of his playoff suave, some consider him the greatest quarterback ever. 
Born in 1956 in Pennsylvania, he was an exceptional athlete in multiple sports. He was offered a scholarship in basketball, but he chose to play football at Notre Dame.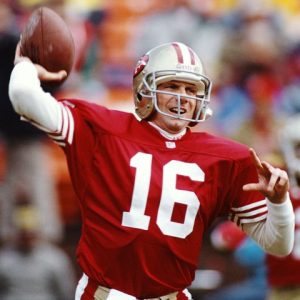 Montana was an underdog from the start, and he spent time as the seventh string quarterback. After gaining the starting position and winning the 1977 national championship, he continued his comeback status by leading the Irish to an underdog win in the Cotton Bowl twice. One comeback was while fighting the flu.
Selected in the third round to the San Francisco 49ers, Montana earned a starting position late in his second season. He won his first Super Bowl in his second year brought on by the iconic pass to Dwight Clark to win the NFC Championship.
It was the beginning of the 49ers' dominance of the 1980s which culminated in three more Super Bowl victories. The team was led by Montana with the dynamic charisma between Montana and Jerry Rice under the direction of coach Bill Walsh and his West Coast offense.
Montana was traded to the Kansas City Chiefs in 1993 at the age of 36. He retired after two more solid seasons.
Playoffs mean everything in American sports. Being able to put up big regular season numbers does not mean anything if the team or player cannot perform on the biggest stage. Joe Montana's legacy revolves around his playoff performances. There are several memorable moments, such as the 92 yard drive to finish his third Super Bowl win.
It brings excitement to his cards. The legend of Joe Cool is represented by a few noteworthy cards that this article will provide details on.
1981 Topps Joe Montana Rookie Card
This is one of the most popular football cards from the 1980s. Joe Montana's rookie card shows him in a 49er's jersey in throwing motion. The card has a green and white border. 49ers is displayed with a yellow background, and Montana's name has a red background. The position is also listed, and the back show statistics and highlights.
His rookie card is one amongst the 528 cards in the 1981 Topps set. The cards are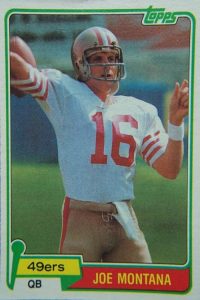 standard sized.
There are thousands of Montana's rookie card on the market. The quality of the card's conditions is generally good, but a Gem Mint is much harder to find. A good grade like PSA 8 will sell for $150, or less but the price jump to a PSA 10 is tough. Joe Montana's rookie card in Gem Mint condition was selling for between $13,750 and $17,900 in 2016, and there is no indication that prices have fallen.
1982 Topps Joe Montana
Joe Montana's sophomore card is not nearly as expensive, but it is a good looking card. Montana is shown on the sidelines taking a phone call. The designs for the set are noteworthy for having NFL logos on them. Montana appears in three cards including his base, "Passing Leaders," and "In Action." There are plenty of cards available and even a Gem Mint base card will sell for $150.
1983 Topps Joe Montana
The Topps design makes a sharp shift this year. The front is simply a picture, team name, player name, and position. The Topps logo, San Francisco, and NFL logos are gone from the previous year.
This is another card where the top grade will fetch a premium. While PSA 10's sell for hundreds, PSA 9's are less than $20.
Montana appears in two cards: the base and the "Record Breaker" subset. Plus, there is a sticker insert. The sticker is inexpensive on the market, but the prices of the Record Breaker card were difficult to determine, but they are likely on the cheaper side.
1984 Topps Joe Montana
At card #358, Joe Montana is the backseat for this set because Dan Marino and John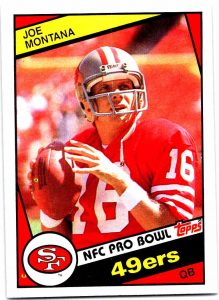 Elway entered as rookies. The cards themselves feature Montana in the pocket with slanted boxes presenting his name, position, team, team logo, and Topps logo.
Montana is in two cards. The base card is more valuable, and it's worth a couple hundred in Gem Mint condition. The second card is far less expensive.
1985 Topps Joe Montana
The design of this set jumps out. It is very 80s. Montana is in a throwing stance in this sideways card. To his right are huge block letters featuring his name and team.  While a Mint card costs less than $20, the top grade will fetch a couple hundred. He is also on "Team Leaders" and "Passing Leaders" cards. The Passing Leaders card is somewhat sought after because Montana is paired with Dan Marino.
1986 Topps Joe Montana
This is Montana's last more valuable card as the hobby moved into the junk wax period. Cards were produced of him until he retired in 1993. Most of those cards are worth $50 or less even in Gem Mint condition.
Montana is pictured grasping his stomach with a grimace. He almost looks sick. The border is green with diagonal white stripes. Montana's name, team, and position caption the bottom.
There were 396 cards in the 1986 Topps of standard sizing. The rookie card of teammate Jerry Rice overshadows every other card in the set.
Montana's card is worth several hundred in Gem Mint condition. However, Mint condition or lower is easily collectible.
There is a record of a PSA 10 Montana selling for $3,815 in 2014, but that is most likely an aberration. Credible sellers on eBay were offering a copy of the same grade for $400 in December of 2019.
Conclusion
Montana will always be remembered as a great playoff performer. Since playoffs continue to dominate the mindset of professional sports, his cards will most likely continue to have value as his legacy is bolstered by time.