Joe Doyle is remembered as Slow Joe Doyle, and he was named Judd Bruce Doyle at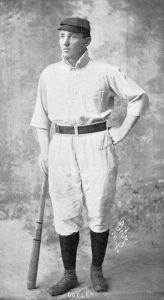 birth. Slow Joe was not a remarkable pitcher, and he only pitched for five years in MLB between the New York Highlander and Cincinnati Reds from 1906 to 1910. However, he has a very rare error card on the T206.
Doyle pitched in the minor leagues from 1901 to 1906. He had his major league debut for the New York Highlanders against the Cleveland Naps on August 25, 1906. Doyle had a shutout in his debut. In his second game, he shutout the Washington Senators.
His career quickly petered. He appeared in fewer and fewer games, and he only won 22 games in his career. He hit .163 in 135 at bats over his career.
He was called "Slow Joe" because he would take exceptional amounts of time between pitches. At the time of Doyle's career, the average game would take one hour and 49 minutes. Doyle pitched games that took longer than three hours, but on average he was closer to two hours.
After retiring from baseball, he opened an automobile repair shop. He died at 66.
1909-1911 T206 Joe Doyle
The only significant card that commemorates the underwhelming career of Doyle happens to be on one of the ultimate sets, the T206.
In the early 1970s, collector Larry Fritsch discovered that there were two versions of Doyle's card. Most of the cards listed him as "N.Y.", but there are a few that have Doyle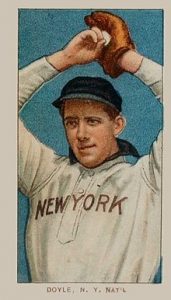 listed  as "N.Y. NAT'L". Early on in printing, Joe Doyle was most likely mixed up with Larry Doyle of the New York Giants of the National League. The mistake was caught early by the printers, which is and was uncommon practice. Thus, we have a rare and special card.
Today, there are believed to only a very small number of  authentic copies of the error card. It is rarer than the Honus Wagner. For perspective, PSA has nine copies registered, while there are 33 Honus Wagner copies registered.
According to an auction house, there have been only six sales of this card in the last 25 years. In 2012 a PSA 3 sold for $414,750. There was a sale for an SGC 50 for $312,000 in 2015. Even a poorly rated copy could reach $100,000 today.
Conclusion
Overall, this card is one of the rarest cards in considering its significance to the hobby. It will continue to rarely sell and reach extreme prices for collectors trying to find a complete T206. We can only wonder how Slow Joe would feel if he knew that a hundred years after his mediocre career that people pay hundreds of thousands of dollars for his sole tobacco card.