Carlton Fisk (born 1947) played in MLB with the Boston Red Sox from 1969 to 1980 (excluding 1970) and the Chicago White Sox from 1981 to 1993. As a catcher, Fisk holds the American League record for seasons as catcher.
Fisk finished his career with a .269 batting average, 2,356 hits, 376 home runs, and 1,330 runs batted in. This led to 11 All Star nominations, as well as three Silver Slugger Awards and one Gold Glove award.
Fisk was inducted into the Baseball Hall of Fame in 2000 on 79.6% of the vote on the second ballot. Additionally, Fisk holds the uncommon distinction of two teams retiring his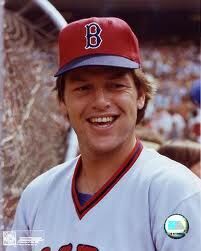 jersey (no. 72).
Born in Bellows Falls, Vermont, Fisk grew up in Charleston, New Hampshire. Vermont held the closest hospital, and this led to a lifelong misunderstanding about his birthplace.
He had five siblings and two active parents. Fisk began to impress everybody in sports, and he did well in soccer, basketball, and baseball in high school.
Two of his brothers were also exceptional baseball players. Calvin and Conrad were drafted to MLB teams, but Calvin left for the Vietnam War and Conrad developed an arm injury. Neither made it to the minors.
While he was a great baseball player in high school, Fisk was simply an all-around great athlete. The owner of the Boston Celtics, Walter Brown, was blown away by the high schooler Fisk when his team played at the Boston Garden. Brown was quoted, "You have got to tell me— who is that kid?"
Fisk left for the University of New Hampshire on a full basketball scholarship after graduating high school in 1965. Despite his success, Fisk fostered his baseball skills on the side by playing local summer leagues.
In the end, after the Boston Red Sox chose him in the 1967 amateur draft, Fisk quit basketball, which was his self-reported first passion. He was naturally and physically more suited for baseball, and he said, "I could never be a six-foot-two power forward and play for the Celtics."
Fisk steadily made his way through the minor leagues. Though his first appearance came in 1969 in the Majors, his career was interrupted by his involvement with the Army Reserve and the Vietnam War. By the end of 1971, Fisk had solidified his spot with the Red Sox, and he was invited to Spring Training in 1972.
With 22 home runs, a .293 batting average, and a .909 OPS, Fisk was off to a terrific start in his rookie year. He was named AL Rookie of the Year, awarded a Gold Glove, and he even finished 4th in AL MVP voting.
He would be a fixture in MLB until his retirement. Fisk performed well in the regular season and playoffs for the Red Sox and White Sox across four decades.
There are far too many stories to tell for a career like Fisk's. However, one moment stands above the rest.
It was the bottom of the 12th inning in Game 6 of the 1975 World Series. The game was at Fenway. Cincinnati relief pitcher Pat Darcy was at the mound. Darcy had retired six batters in order. As Fisk took to the plate to lead off, the game passed four hours in duration.
A 1-0 count, and Fisk belted a sinker right down the left field line. As the ball peeled into space, one camera stayed on Fisk. Wildly, desperately, Fisk waved the ball to stay fair. Millions at home were struck by the drama of the moment. The ball struck the foul pole, a home run was declared, and Fisk ran the bases to an ecstatic crowd, as his teammates prepared to mob him at home plate.
Fisk waving the ball fair is often considered the most iconic baseball moment captured on film. He waves once, twice, thrice, and then leaps in joy. It's the classic schoolyard moment, and as they say, "It's hard not to be romantic about baseball."
As he described in a 1999 interview with NBC, Lou Gerard, the cameraman, was distracted by a nearby rat, so he broke protocol and stayed with Fisk. While filming the batter is standard today, the filming of Fisk's plea was accidental.
The Red Sox lost in Game 7, but Fisk has gone down as an excellent catcher and a solid Hall of Fame Inductee. Perhaps more so, his cards help to commemorate "Fisk waving it fair."
There are several solid cards for Fisk. As you move on in his lengthy career, many cards become more common and affordable. This article will go through a few of the best cards.
1972 Topps Carlton Fisk Rookie Card
Fisk's rookie card did not come until 1972 when he was a regular starter for the Red Sox. He sits at #79 in the 1972 Topps, which has 787 cards of standard size (2 ½" x 3 ½"). In addition to Fisk, major rookies include Cecil Cooper, Dave Kingman, Don Baylor, and Darrell Porter. Fisk is on a card titled "Red Sox Rookies" which has Garman and Cooper as well.
As with every Topps set that Fisk is on, the 1972 is well preserved. For reference, PSA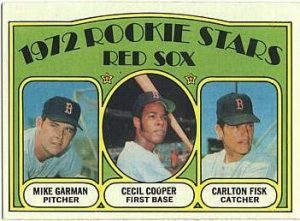 has 284,297 cards. PSA has over 6,000 of Fisk's rookie preserved.
Gem Mint copies are expensive, and they have been on the rise during Covid-19. They sold for around $10,000 to $15,000 for over a decade, but since 2020, prices have gotten as high as $32,769.60 in March of 2021.
Mint copies have also risen. While they used to sell for several hundred as recently as 2019, Mint copies were regularly selling for over $2,000 in 2021.
1973 Topps Carlton Fisk
Fisk is at #193 in the 1973 Topps. There are 660 cards in the set, each of standard measurements. Key rookies include Mike Schmidt, Ron Cey, and Davey Lopes. This set is notable for the last active card of Willie Mays.
While there are nearly 200,000 cards from the set registered with PSA, Fisk's population is around 1,500 with the grader. It is a noticeable, but not unexpected drop off in population from his rookie year.
Gem Mint copies are not frequently sold, so it is hard to give an estimate. If you are hunting for a sophomore release of Carlton Fisk, expect to pay thousands. The most recent sale found was for $4,700 in November of 2019.
Mint copies are much more frequently sold, and they have sold for $150 or so for the last few years. However, prices vary, and there has been a noticeable uptick in 2021.
1974 Topps Carlton Fisk
There are 660 cards in the 1974 Topps baseball set, and each card is standard size. Fisk's card sits at #105.
There are over 200,000 cards from the set registered with PSA, and Fisk's population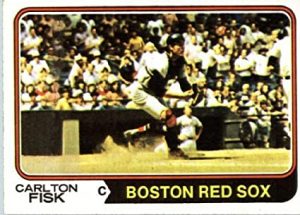 continues to drop, reaching well below 1,000.
Fisk's card stays expensive in high grade. Expect to pay thousands for a Gem Mint copy. Mint copies have sold for around $150 for a few years, but they have gotten close to $300 during the pandemic.
Conclusion
Fisk's cards continue to drop in popularity and price, which can be good for the more frugal collector. As his career enters his time with the White Sox, his cards enter a period of intense production, and there are plenty of options.
Fisk is widely considered one of the best catchers of all time. He had a fantastic career over four different decades with two teams. Despite the awards, the stats, and the inductions, Fisk is best remembered for his plea to get that ball fair! Owning a Fisk card is owning a memorable moment, a commemoration of a great player, and above all, a piece of baseball history.