Cal Ripken Jr. (born 1960) is best known as the Iron Man of baseball because he holds the record for consecutive games played at 2,632.
Over 21 seasons with the Baltimore Orioles, Ripken was productive, to say the least. He finished his career with a .276 batting average, 3,184 hits, 431 home runs, and 1,695 runs batted in.
He only missed the All Star game in his first two seasons making the game with a 19 season streak from 1983 to 2001. He was a two time AL MVP, two time Gold Glove Award winner, and eight time Silver Slugger Award winner.
Born in Havre de Grace, Maryland, Ripken was brought up around baseball. His father worked for the Baltimore Orioles, and he exposed his son to the game early on.
Ripken was always asking questions about baseball from his father and the players. By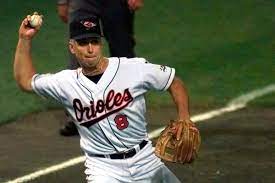 the age of 10, he knew more about baseball than many. His father said that Ripken's questions were better than the reporters.
Ripken was drafted 48th overall in the 1978 MLB draft by the Baltimore Orioles, and he struggled to make the adjustment to the minor leagues. In his first season, he had a .264 batting average and 33 errors. The next year, the adjustment was made, and he began to greatly improve.
Ripken was called up by the Orioles in late 1981. He was originally put at third base, but he was soon moved to shortstop. He again struggled early in his MLB career, but with the help of the likes of Reggie Jackson, Ripken soon smoothed out his swing.
After winning the Rookie of the Year Award in 1982, Ripken continued to impress by capturing the MVP for the American League in 1983, and he was a major piece of the Orioles World Series victory in that same year.
During the 1987 season, Ripken's father became manager, and he managed Ripken and his other son Billy Ripken when they played in the same game on July 11.
Ripken grew into a leadership position in the late 80s and early 90s, especially with another MVP in 1991. Also, he moved into second place as the Iron Man on June 12, 1990, and his toughness and durability gained him much respect.
Ripken produced respectable numbers for the rest of his career, and he is one of the best of his generation. He was a good player into his early 40s, retiring at 41.
Upon retirement in 2001, his jersey was soon retired by the Orioles, and he was inducted into their Hall of Fame. He was also named to the MLB All-Century Team. Finally, he was inducted into the Hall of Fame on the first ballot with an astounding 98.53% of the vote.
However, after all of that, the greatest achievement of Ripken's career was shattering the Lou Gehrig iron man record. Fans would vote his 2,131st consecutive game from September 6,1995, as the most memorable moment in baseball history.
Following the record break, Ripken was asked to give a speech. He spoke with humility, "Tonight I stand here, overwhelmed, as my name is linked with the great and courageous Lou Gehrig. I'm truly humbled to have our names spoken in the same breath."
Ripken played during a difficult era when many cards were overproduced and cheap. Yet, there are a few cards that we will go over that help commemorate a great career.
1980 Wbtv Charlotte O's- Blue Border
These were locally distributed cards from a local tv station. There was a giveaway on May 30, 1980 at the stadium, and the sets were handed out. 1400 sets were made, but fewer were distributed.
This is a rare card. There are only 67 cards registered with PSA. PSA 8's have sold for $4,900, $9,600, and $4,080 since 2018. Given its rarity, this card will most likely break $1,000 at any grade.
1980 Charlotte O's Police-Orange Border Cal Ripken Jr.
This was another locally distributed set which was given out by a local police station. It is the same card, but it has an orange border. There are not many of these cards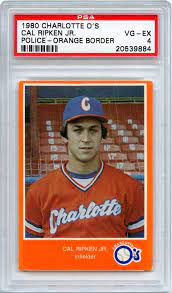 available, and the variation raises the price. For reference, PSA has 23 of these Ripken cards preserved.
There was an auction for a PSA 4 which sold for $11,721 in May of 2014. The only other auction was for a PSA 5 in September of 2016 for $5,500. If you find a copy of this card in any grade, if it is authentic, it will most likely go for thousands at the right auction because it is so uncommon.
1982 Topps Traded Cal Ripken Jr. Rookie Card
The following 1982 cards are often considered "true rookies" because they are from his rookie season, he is in a professional uniform, and these cards had national distribution. The minor league cards are still rare and valuable.
This set had 132 cards of standard size. The main distinction from the regular set is the large "T" printed on the traded cards. The only other significant rookie is Ozzie Smith. Cal Ripken Jr. is at #98T.
Unlike the minor league cards, this card is quite common. PSA alone has 12,201 cards registered. There are thousands of Gem Mint copies certified and hundreds of Mint copies.
Ripken's card has been popular to trade, and there are plenty of buyers and sellers. Prices have been on the rise during the coronavirus pandemic. Gem Mint copies were at $1,200, and they soared to $5,000 as many saw them as undervalued. You can still find a Mint copy for well under $1,000.
Lastly, the Topps traded is the most sought after and expensive Ripken rookie card.
1982 Fleer Cal Ripken Jr. Rookie Card
The next card to look into is the 1982 Fleer, which is much more affordable than the Topps traded but a nice card, nonetheless.
There are 669 cards in this standard size set. Cal Ripken Jr. is at card #176, and the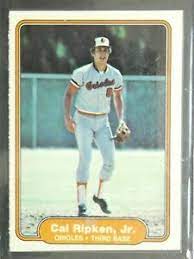 other major rookie is Lee Smith.
There are plenty of Ripken cards floating around, and PSA has about 10,000 cards registered, many of them in high grade.
If you want to buy a Gem Mint copy of this card, expect to pay $1,000 or more, but if you drop in grade, the prices drop fast, where a Mint copy would be around $100.
Conclusion
The only other rookie cards worth looking into are the Donruss and the Topps (Ripken shares a card with two other players), and those cards would only be a few hundred in Gem Mint condition. After that, given the era of card collecting, cards get very cheap, very quickly.
Cal Ripken Jr., the Iron Horse of MLB, had a truly stupendous career. He not only broke, but he shattered one of the most "unbreakable" records in sports. While he may have played when cards grew plentiful and cheap, there are several great options for nearly every collector.