Bert Corbeau (1894-1942) played ice hockey in the early days of professional hockey from 1913 through 1929. Over ten seasons in the emerging NHL, he played for the Montreal Canadiens, the Toronto Maple Leafs, the Hamilton Tigers, and the Toronto St. Pats. Corbeau also played in vintage leagues like the MPHL, NHA, and Can-Pro.
Corbeau is not an outrageously impressive player. Over 10 season1s in the NHL, he only had 63 goals and 49 assists. He was quite large for the time period, coming in at 5 feet 11 inches and over 200 pounds.
Corbeau joined a junior hockey team at 19, and he soon made it into the NHA professional league. Though it was not a remarkable career, Corbeau was good enough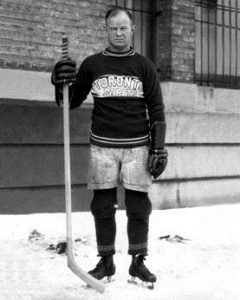 to make it through many seasons of professional hockey.
He has a few distinctions such as a member of the Canadien's first Stanley Cup championship in 1916. Also, he was the first player to play for both the Canadiens and the Maple Leafs, and he was the first player to have over 100 minutes in penalties in a season.
His highest honor and distinction was his induction in 1987 to the Penetanguishene Sports Hall of Fame. He may be best remembered for his tragic death in a boating accident when he was still in his 40s.
The main reason for why he has an article written about him is that his card was severely short printed on the 1923 V145-1 William Patterson Ltd. Corbeau's rookie card is so scarce that it is many times more expensive than any card on the set, including the Howie Morenz rookie, the Billy Burch rookie, the Shorty Green rookie, and several other rookie cards of important founding Hall of Fame players.
This article will take you through Corbeau's place on that set, as well as a couple other less important cards.
1923 V145-1 William Patterson Ltd Bert Corbeau Rookie Card
Corbeau sits at card #25 in this small, 40 card set. Each card measures at 2" x 3 ¼". The front of these cards have a portrait of each player, captioned by the player's name, city, and "National Hockey League." The backs of the cards are blank.
Georges Vezina is a key to the set, along with the rookie cards of stars like King Clancy, Cy Denneny, Aurel Joliat, and Howie Morenz, as well as a few others.
Corbeau was nowhere nearly as good as those other players, but his card is the most important on this set. Corbeau was so severely short printed on this set that most collectors consider this set to be completed without his card.
For reference, PSA has 1,480 cards from this set registered. While there are only about 30 cards of each player registered on average, Corbeau only has a few copies registered.
Cards registered as Authentic have sold for between $15,000 and $25,000 since 2017. For reference, an Authentic rookie card of the great Howie Morenz sells for about $2,000 from this set.
1924 V145-2 William Patterson Ltd. Bert Corbeau
In the next set from what is assumed to be produced by William Patterson, Corbeau sits at #58 in this 60 card set. This card of Corbeau drops significantly in value from the year prior.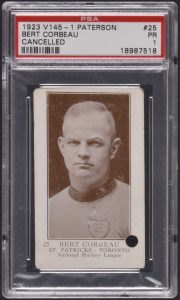 There are a fewer number of these cards from this set floating around. Corbeau has an average population compared to the rest of the set. PSA has 12 Corbeau cards in total.
There are two registered sales found. A PSA 5 sold for $396 in 2015, and a PSA 7 sold for $494.44 in 2017.
1924 C144 Champ's Cigarette Bert Corbeau
There are 60 unique cards in this unnumbered set, and each card measures 1 ½" x 2 ½". The set was produced by the Tobacco Products Corporation of Canada. The keys to the set are similar, and there are also a number or rookie and rare showings in this important vintage set.
Once again, collectors are faced with a rare vintage set in trying to collect Corbeau cards. In total, PSA has about 1,200 cards. Corbeau has an average number of cards registered with PSA at 22.
Conclusion
Bert Corbeau was a decent player in the origins of professional hockey, but he was not outstanding. He is not a Hall of Famer, and he does not deserve the distinction. However, he has the most important card on a crucial vintage hockey set which makes him noteworthy in today's hobby.