Benny Bengough (1898-1968) is remembered for his playing baseball for the New York Yankees for the majority of his career from 1923-1930 during which the Yankees changed baseball. In addition to his time with the legendary Yankees era, Bengough played for the St. Louis Browns, and he was a respected coach after retiring from baseball.
Playing as catcher, he was a part of the famous Murderer's Row lineup, but Bengough was a defensive specialist and a light hitter. Standing at 5 feet 7 inches and 145 pounds (when he joined the Yankees), Bengough came off as more of a bat boy than a member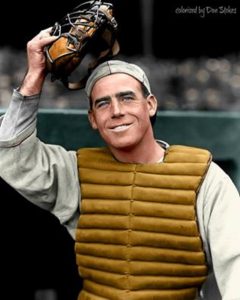 of Murderer's Row. A small guy with a walk-on backstory to the great 1920s Yankees, Bengough was called the Peter Pan of Baseball in his early career.
During his time with the Yankees, Bengough spent much of his time on the bench. In total he had a batting average of .255, 287 hits, and 108 runs batted in. He was a part of three World Series champions in 1923, 1927, and 1928.
Bengough is best remembered by baseball card collectors for his spot on the 1933 Goudey. As we will discuss below, the card is valuable because it is very condition sensitive and it is the #1 spot on a Big Three baseball set. His six figure card somewhat outshines his career.
Bengough was born in Niagara Falls, New York as the youngest child to James and Margaret Bengough. His father was a foreman in a factory, and his parents were of English and Irish heritage.
He went to Buffalo as a teenager where he saw Hank Gowdy catch. Bengough would later say, "My eyes were always glued on Hank, and I'd dream of the day when I'd be there myself."
For a short while, he seemed to have a different calling from baseball, and he attended Niagara University as a divinity student. However, he built an impressive resume in the meantime on semipro teams. He showed up to the Buffalo Bison's in 1917 without invitation, and he earned an offer to warm up pitchers and sometimes play. He was paid $5 a day.
After a couple hundred games with the Bisons in 1918 and 1919, Bengough was noticed by New York Yankees scout Paul Krichell. After an injury season in 1920, followed by a solid .275 in 1921, the Yankees purchased the Bisons' contract in 1922.
Bengough served as the back up to Wally Schang in 1923 and 1924. He was put into the starting lineup on June 1, 1925, which was the first day for Lou Gehrig at first base. Though Bengough is no Gehrig, he performed well as the Yankees catcher. He finished the season with a .258 batting average, 14 doubles, and 23 runs batted in. His offensive output was not enough for the Yankees manager, and he was benched again.
Brought off and put back on the bench for the next several years, Bengough's highpoints include starting for the 1928 World Series, and he led the American League catchers in 1928 with a .992 fielding percentage. An interesting fact about Bengough is that he was a popular teammate during his time with the Yankees, befriending greats such as Babe Ruth and Lou Gehrig.
Bengough spent the next few decades coaching MLB teams. His highlight was the NL pennant with the 1950 pennant. He spent his retirement from 1959-1968 raising money for poor children to play baseball.
Bengough was not a very important player for his time, but he happens to be in a prominent spot of the 1933 Goudey at the #1 position, and it memorializes Bengough for generations to come.
1933 Goudey Benny Bengough
The 1933 Goudey is one the most important sets in cardboard collectibles. They help to mark the transition of trading cards into a new age. For one, they are much larger than their tobacco card predecessors. The cards measure at 2 ⅜" x 2 ⅞". Additionally, the cards set new artistic standards for the large, colorful illustrations. Finally, the cards are printed on much thicker stock, which helped establish a new industry wide standard.
The set has 239 cards which includes a number of Hall of Famers, including four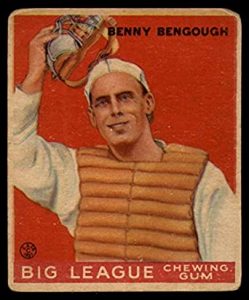 different Babe Ruth cards.
There are a number of oddities on the set, and Bengough's card is scarce. The card is frequently found off center, was subject to great abuse as the number 1 card, and the low number series suffer difficulties in general, such as the small brown spots from paper aging (aka foxing). This all creates a scarcity for a particularly important card.
There are a comparable number of cards graded and registered by PSA for Bengough with around 500 for Bengough alone. There are very few high grade cards registered: one for Mint condition and six for a PSA 8.
Mint condition copies of this card are infrequently sold, and any price estimate would have to be over $100,000. Since 2013, the price of a PSA 8 has risen from $26,000 to $66,000. $1,000 could probably get you a PSA 5 or lower, but the card is so infrequently sold that it is hard to tell.
1933 World Wide Gum Benny Bengough
World Wide Gum was the counterpart for Goudey in Canada. This is the only other major card for Bengough. The 94 card set measured 2 ⅜" x 2 ⅞", and it is fairly scarce though not heavily sought after.
Cards #1-52 somewhat copy the American version. Keys to the set include Lou Gehrig, Babe Ruth (two cards), Bill Dickey, Bill Terry, Moe Berg, and Benny Bengough.
There are only 23 cards graded by PSA, and the highest grade is a PSA 8. Obviously, official sales of the card are going to be quite infrequent. The most expensive sale that I could find was $1,000 for a PSA 6 in 2012.
Conclusion
Goudey did not know that they were making a famous baseball card set that would be traded for hundreds of years. If they did, they would not have made Bengough the #1 card. It is a happy happenstance that Bengough's respectable career will be remembered for years as a prominent member on this rather important set.