Tony Gwynn (1960-2014) played right field in Major League Baseball for the San Diego Padres for 20 seasons from 1982-2001. Gwynn is best remembered for his single-hitting, and he never fell below .309 in a full season.
Finishing his career with a .338 batting average, 3,141 hits, 135 home runs, and 1,138 runs batted in, Gwynn was the NL Batting Champion eight times. Also, he was a fifteen time All-Star, a five time Gold Glove Award winner, and a seven time Silver Slugger Award winner.
Born in Los Angeles, California, Gwynn's family moved to Long Beach when he was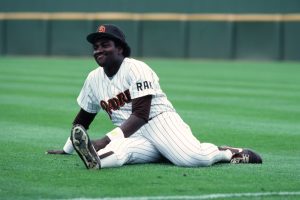 nine. His parents encouraged him to play sports, and basketball was his favorite. He went to many Dodgers games, and Willie Davis was his favorite player because he was "aggressive but under control."
Gwynn's high school, Long Beach Polytechnic High School, was well known for its athletics, and Gwynn starred in basketball and baseball. During his junior and senior years, his baseball team went 3-25-2, while his basketball team was 53-6 and made it to their league's championship game twice.
Gwynn seriously considered quitting baseball in order to focus on basketball, but his mother talked him out of it because there was not as much opportunity for a career in basketball at the time.
Although he received several full ride basketball scholarship offers and zero baseball scholarships, Gwynn pursued baseball at San Diego State University which was only guaranteed if he agreed to play basketball as well.
Gwynn was a standout in basketball, and he was only scouted for baseball indirectly because scouts were looking at future first round pick Bobby Meacham. Gwynn was the 58th overall pick in the 1981 MLB draft. Later, he was selected in the 10th round of the NBA Draft just in case.
Despite the ongoing drama for the young man, pursuing baseball was probably the right choice and definitely the practical choice. At 5 feet and 11 inches, he may have excelled in high school and college, but he probably would have had a weaker career in the NBA than MLB.
Gwynn was soon called up, and by 1984, he was batting .351 for the Padres team that reached the World Series. Another highlight came in 1994 when he batted .394 during the strike season, and that was the best batting average since the .406 of Ted Williams in 1941.
Gwynn never had much potential for a power hitter, but he could wait for his pitch like nobody else, as well as putting in the time behind the scenes. He might be best remembered for his hand eye coordination.
Throughout all of the stats and all of the stories, nothing stands out like Gwynn's batting average and hits. It is why there is a 9.5 foot, 1,200 pound bronze statue outside of Petco Park.
In 2007 Gwynn was inducted into the Hall of Fame on 97.6% of the vote on the first ballot. Additionally, the San Diego Padres retired his no. 19 jersey, and the team inducted him into the Padres Hall of Fame.
Power hitters are often the most celebrated players in baseball. Yet, there's room for Gwynn and many others for plenty of fans. This article will take you through some of his best baseball cards.
1983 O-Pee-Chee Tony Gwyn Rookie Card
Tony Gwynn sits at #143 in this 396 card set, where each card is standard size (2 ½" x 3 ½"). The keys to the set include the rookie cards of Gwynn and Ryne Sandberg, as well as the regular issues of stars such as Pete Rose, Nolan Ryan, and Cal Ripken, Jr.
For reference, there are only 7,109 cards registered by PSA from the set, which is lower for the era. There are about 1,000 Gwynn cards registered which can show you how treasured his card was and is. Only 31 of those Gwynn cards are in Gem Mint condition.
Those Gem Mint cards are quite expensive, and they have surpassed $10,000 since the uptick in prices following the beginning of the Covid-19 pandemic. Yet, a Mint condition card at a PSA 9 should only cost you around $200-$600.
1983 Topps Tony Gwynn Rookie Card
There are 792 cards in this much bulkier set. Gwynn's card sits at #482.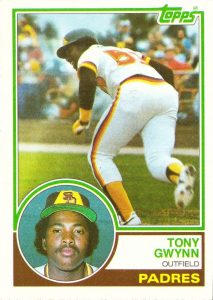 In contrast to the O-Pee-Chee, there are well over 100,000 cards from the entire set registered with PSA, and 21,000 of those cards are Tony Gwynn cards. Over 650 of them are Gem Mint copies.
This card is traded frequently, so prices are more stable. This card can be considered almost the poster of Tony Gwynn rookie cards.
Gem Mint cards will fetch a hefty sum. For several years, these cards sold for around $500, but from March of 2020, prices began to rise, only to peak at $4,000 a year later. Mint copies had a similar journey in pricing, but they only reached a few hundred per card.
1983 Fleer Tony Gwynn Rookie Card
The 1983 Fleer set has 660 cards of standard size. Gwynn's card is number 360.
There are over 35,000 of 1983 Fleer baseball cards graded by PSA alone. Over 8,000 of those graded cards are Gwynn cards.
Gem Mint copies cost about $100 for several years, but they jumped up to several hundred during the Covid-19 pandemic.
1983 Donruss Tony Gwynn Rookie Card
The 1983 Donruss baseball set had 670 cards, and Gwynn's card was found near the end of the set at #598. Tony Gwynn remains a key to every major baseball set in 1983.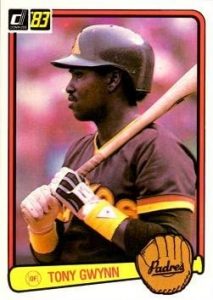 PSA has over 37,000 cards registered for this set, and over 8,000 of those cards are Gwynn cards. Over 800 of those cards are Gem Mint copies.
Gwynn's Donruss rookie card is traded often, so if you are looking for it, it is there. This is a much more affordable rookie card, and Gem Mint copies can sell for over $500.
Conclusion
After his rookie card, most Tony Gwynn cards somewhat sink in value. It was the era where cards were overproduced. However, keep your eye on your Tony Gwynn cards because cards from the junk wax era have taken a jump since the Covid-19 pandemic.
Tony Gwynn almost went to play basketball, and he probably would have been a good role player in the 1980s. Instead, fans received an all time great hitter. Luckily for collectors, we have a few fine Tony Gwynn baseball cards from the 1980s and 1990s.