Nolan Ryan had incredible durability. From 1966 to 1993, from the age of 19 to 46, Ryan amassed 5,714 strikeouts. Ryan holds the record for career strikeouts to date with 839 more strikeouts than the second place holder Randy Johnson. Ryan led the American League in strikeouts ten times, and he was the oldest player to do so when he did at 43.
He was drafted out of high school in the 12th round in 1965 by the New York Mets. After a few years in the minor leagues (excluding 3 innings pitched in 1966 in the MLB) with a brief time away for military service, he began regularly pitching in MLB in 1968. Ryan made a name for himself for the Mets, particularly for his excellent pitching in the 1969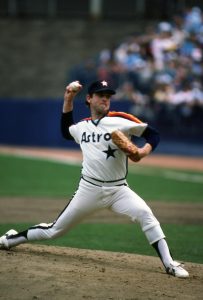 playoffs where the Mets won the World Series.
After a trade to the Angels in 1971, Ryan rose to star status. He led the league in strikeouts seven times before moving to the Houston Astros. He finished his career in 1993 with the Texas Rangers after joining them in 1989.
His record breaking seventh no hitter came in 1991 with the Rangers. He also recorded 300 wins over his career.
In addition to his incredible milestones, Ryan's pitching had character. An official attempt was made to measure his fastball in 1974. It was gauged at 100.9 mph, but many have found that the infrared radars of the time were unreliable. Though an accurate measurement of Ryan's peak fastball is lost, there are estimates that his fastball would have clocked in at 107 mph if measured by modern devices.
Part of that character was that his feared fastball could be wild. He led his league eight times in walks and six times in wild pitches. Tom Morgan of the Angels has been given significant credit over the years for helping to help hone Ryan's talent.
Nolan Ryan brought excitement to pitching. The wins, strikeouts, wild pitches, and no hitters made for a must watch player. His rookie card created a wild chase later on in his career. It is the most sought after baseball card from the 1960s. This article will take you through some basic facts about his best cards. It begins with a breakdown of the four types of Nolan Ryan rookie cards.
1968 Topps Nolan Ryan
Pictured next to Jerry Koosman in a horizontal format, Nolan Ryan has his hat brim low in this good looking card. This is the classic Nolan Ryan rookie card. The other three vary by producers and locations released.
"1968 Rookie Stars" shines across the top, the Mets name is shown in the corner, and Koosman's and Ryan's names are beneath their pictures with their position. The backs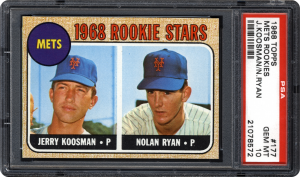 have brief biographies and minor league stats of both players.
Numbered at 177, the classic Nolan Ryan rookie from Topps USA is not the most rare, but it is the most sought after.
The quality conditions for this card are good. There are plenty in high grade, though few in top condition. A rare PSA Gem Mint 10 sold for $612,359 in 2016, and the card was Population 1 at the time. PSA 9's are more common, and they sold for between $20,000 to $25,000 in 2019. To find a card below $1,000, a buyer would have to drop to a PSA 6.
1968 Topps Milton Bradley Nolan Ryan
Board game giant Milton Bradley worked with Topps to produce cards for a game. Topps licensed Milton Bradley to release cards from their 1968 baseball, Hot Rods, and 1967 football sets. There are 132 cards attached to the game, including 77 baseball cards with Nolan Ryan's rookie card in there.
The game did not sell well, so these cards are scarce. Although the card is nearly identical to the base set, there are two distinguishing features that make this a unique card. The Milton Bradley cards can be identified by a thin white print line that crosses the card's front on the left side, and the yellow color on the back is a noticeably different shade.
Since the card is rare, official information on prices is difficult. Prices for this card have also been reported to vary wildly. However, in 2019, the Milton Bradley cards were worth about 50% more on eBay than the base cards at the grades of PSA 7 and 8.
Part of this increase in price is that the cards are harder to find in decent grades. After all, the Milton Bradley cards were part of a game where the cards were handled. There was no available information on a PSA 9 or higher. Again, the prices for this card is controversial amongst the community, and they should be purchased with caution.
1968 Topps Venezuela Nolan Ryan
Topps released this set in Venezuela, and they are quite rare. The key differences between this card and the base are the Venezuela card can be as much as ⅛" smaller, the stock was non gloss, and "Hecho En Venezuela" ("Made in Venezuela") is printed in the bottom right corner on the back.
All Venezuelan Topps cards have condition issues because they were printed on cheap stock. A PSA 6 would be a very high grade for this card. Resultantly, a PSA 4.5 sold for $18,880 in 2016. A PSA 1 was up for bid starting at $4,000 in 2019.
1968 O-Pee-Chee Nolan Ryan
O-Pee-Chee printed the identical card through their license with Topps for the Canadian market. There is no O-Pee-Chee name, and the distinguishing feature is the made in Canada line on the bottom right of the back.
The differences between these cards are small, and they share an almost identical design. However, the differences are important for collectors to know because the prices can vary strongly for the Nolan Ryan rookie cards.
1970 Topps Nolan Ryan
Outside of his rookie card, Nolan Ryan's cards stay strong until they reach the junk wax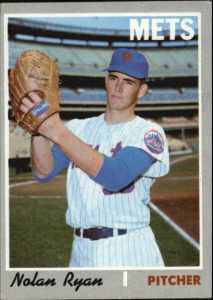 period beginning in the 1980s.
The 1970 Topps Nolan Ryan is a solid example. The standard sized set had 720 cards, and it had a dynamic design.
Nolan Ryan is a major find. A Gem Mint copy of his card sold for $8,107 in 2004, and then it went for $26,290 in 2013. It's a great example of the steady rise in price for card from players of Ryan's caliber.
1973 Topps Nolan Ryan
This is a great card that portrays Ryan in the middle of his dominance. The prices for this card have fluctuated. A good example is a Gem Mint card sold for 28 thousand in 2009, dropped to 12 thousand three years later, and rose back to 19 thousand in 2015. It shows how some cards can go through a period of over evaluation. When that happens, there are big winners and big losers.
1975 Topps Nolan Ryan cards
Nolan Ryan is on a few cards in this set. He was on two highlight cards, a strikeout leader card, and a base card. Outside of the base card, the other three are worth around a thousand dollars apiece in Gem Mint condition.
The base card is very valuable. The most recent auction sale for a Gem Mint card was for $38,240.
Conclusion
Ryan's rookie card is one of the most famous rookies in all of sports cards. It is a great representation of a legendary career. Ryan will be a remembered baseball player, and his cards will continue to be traded for years to come.