Maurice Richard is best remembered for his crucial role in the Canadiens dynasty of the 1950s and 60s where the team won eight Stanley Cups. He is an important player in the early NHL, exampled by his being the first player to score 500 goals.
Born in 1921, he was the eldest of seven siblings. He grew up in a poor family that was devastated by the Great Depression. He truly took to hockey as a student to be a machinist. Richard quickly found a love for the game, and he joined several teams at once in order to play every day. He operated under fake names to pull off his multiple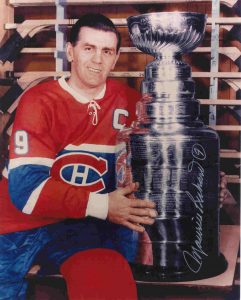 allegiances.
Richard signed with the Montreal Senior Canadiens in 1940, which was the farm team for the NHL Canadiens. His career seemed over before it began due to injuries. Interestingly, he was rejected by the Canadian military because of his reported fragility.
However, Richard persevered. In the 1943-1944 season, Richard formed the Punch Line with Elmer Lach and Toe Lake. It is considered a legendary forward line.
Richard went on to score 50 goals in the next season, the MVP Hart Trophy in 1947, earn 14 time NHL All-Star selections, and he was readily inducted into the Hall of Fame, as well as being named to the list of the 100 Greatest NHL players. Today, the Maurice Richard Trophy honors the NHL's regular season goal scoring leader.
The ferocity of Richard lives on through stories. It was believed that nothing could stop him from scoring: neither sticks nor fists. He was a very aggressive player.
On March 13, 1955, Richard got into a fight with an opposing Boston player. Enraged, Richard, perhaps accidentally, struck a linesman. He had already been suspended earlier in the season, and the NHL felt that it had no choice but to suspend Richard for the remainder of the season and playoffs.
Montreal was infuriated. The next game is the shortest NHL game ever. It included tear gas, tomatoes, and significant riots. It is referred to as the Richard Riot. Many scholars cite the unity and outrage of the Richard Riot as a prelude to Quiet Revolution in Quebec, which is a highly significant period of social, economic, and cultural change in the Canadian province.
Richard is an important part of the history of the NHL. He was a member of a great dynasty, a truly great player, and his character exemplified the grit of ice hockey.
Richard lands in the middle of a difficult era of cards because his peak is during and soon after the end of World War II. He misses the coverage of O-Pee-Chee, and he was never covered by Topps. Luckily, his career is partially covered by Parkhurst, which offered good hockey cards in the 1950s This article will take you through a few of his best cards.
1951 Parkhurst
There are 105 cards in this set, and they measure 1 ¾" x 2 ½". It is the beginning of the reintroduction of hockey cards. Richard is shown on the ice with his stick in hand. The set deals with general scarcity through demand as well as condition issues with poor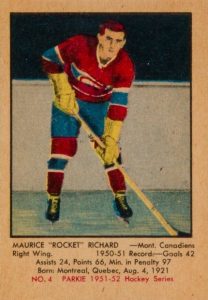 centering and weak stock. Richard's card is no exception.
There are 361 cards of Richard registered by PSA, and five of them are Mint condition. There are a few dozen available at each grade. In 2019 a Mint copy sold for $57,600 at auction. Prices fall slowly due to demand, and PSA 8's sold for between $13,000 and $18,000 in 2019. To find a card for around $1,000, collectors would need to drop to a PSA 4.
1952 Parkhurst Maurice Richard
Richard was featured at the #1 spot for this 105 card set. Each card measures 1 15/16" x 2 15/16". Condition and scarcity issues persist, as there are only 181 cards registered by PSA with the highest graded cards being three PSA 8's. Though there was little available data on the rare PSA 8's, PSA 7's have sold for close to $3,000 since 2016.
1953 Parkhurst Maurice Richard
There are 100 cards in the 1953 Parkhurst, and they increased the measurements to 2 ½" x 3 ⅝". Parkhurst improved the design and beauty of the cards for this years, so much so that many consider it one of the finest hockey sets.
There are 265 cards registered by PSA for Maurice Richard. Condition sensitivity improved with two Mint cards and 30 NM-MT. PSA 8's have sold for between $2,000 and $3,000. PSA 5's are very reasonable, and they can be bought for a few hundred.
1954 Parkhurst Maurice Richard
The 1954 Parkhurst has 100 cards that measure 2 ½" x 3 ⅝". There are 224 copies of Richard's card registered by PSA . One is in Mint condition, and 28 are in NM-MT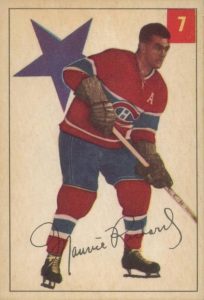 condition. The one Mint card sold for $7,500 in 2017. PSA 8's can be purchased for around $1,000.
1955 Parkhurst Maurice Richard
The size and number kept changing for Parkhurst sets, and the 1955 measures 2 ½" x 3 9/16" for this 79 card set. Richard continues to be a key to the Parkhurst sets. This happens to be the season of the abovementioned Richard Riot. Richard's photo is captioned by the name, "Rocket Richard." Rocket was a nickname that followed him into retirement.
There are 131 copies of Richard's card registered by PSA. The highest graded cards are 15 PSA 8's. PSA 8's rose in price from $1,600 in 2008 to $5,216 in 2018. PSA 7's can be purchased for around $1,000.
Conclusion
Sports can often paint broader pictures on their respective time periods. Richard helped to represent a burgeoning game, and he was a medium through which public outrage could be expressed. Sports cards are historical documents that help to represent the player, the brands, the respective leagues, and the broader social issues of the time period.