Despite the notoriety brought on by the Black Sox or perhaps because of the notoriety,  "Shoeless" Joe Jackson has several valuable and sought after cards.
Jackson was born in 1887 in South Carolina, and he was sent to work at a cotton mill at the age of six due to his impoverished family. Jackson grew up playing ball with the cotton mill team. He earned the nickname Shoeless at this time with a base clearing triple done without shoes.
Quickly moving through minor leagues, Jackson had his first full-time season with Cleveland in 1911. He batted .408, and he was quickly into stardom.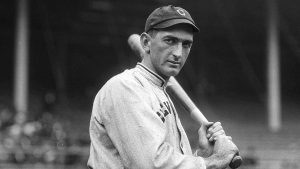 In his sophomore year, the league took notice. Even Ty Cobb praised him, and Babe Ruth said, "I copied Jackson's style because I thought he was the greatest hitter I had ever seen, the greatest natural hitter I ever saw. He's the guy who made me a hitter."
Jackson was traded to the Chicago White Sox in 1915, and they won the World Series in 1917. In the 1919 season, the team and Jackson were dominating the competition. The White Sox lost the World Series, and Jackson, along with seven teammates, were accused of accepting a bribe to throw the game.
The White Sox owner had been underpaying and refusing bonuses to his players. Jackson was promised $20,000 in pay for the bribe, while he made $6,000 in salary. Clearly, there was incentive for Jackson to cheat.
Jackson denied ever consenting to participate in the conspiracy, he claimed to try to return the money, and his illiteracy may have led to an accidental signed confession. Furthermore, he played great in the games he was supposed to be throwing, and he batted .375 through the series. Jackson was banned for life in 1920.
His innocence or guilt is still debated today. Jackson spent the remainder of his life petitioning MLB for a reinstatement, and later he hoped for an induction into the Hall of Fame. Jackson struggled to leave the game, and he played on minor league teams under fake names in the South.
Jackson landed on his feet, and he settled in South Carolina with his wife. There he opened and successfully ran a few local businesses. He died in 1951 at age 64 from heart complications.
He has lived on in American culture, such as through Field of Dreams. His cards are heavily sought after today. His cards help to represent a story, which has a different meaning to everyone.
1909-1911 E90-1 American Caramel Joe Jackson
The cards from this set measure 1 ½" x 2 ¾", and there are 120 cards in the set. Jackson is shown poised with one hand on his hip and the other is leaning on a bat. His name, position, team, and league are captioned on the bottom with a purple background.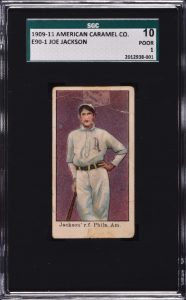 The back has an American Caramel advertisement.
Jackson's card is generally considered his rookie card. Thus, Jackson's card from this set is highly valued. The highest registered cards are two PSA 8's. The remaining 76 cards registered by PSA are a 5 or lower.
One PSA 8 sold for $375,000 in 2006, and the price rose to a sale of $667,189 in 2016. Even a PSA 1 fetched the hefty price of $10,800 in 2017.
1910 T210 Old Mill Joe Jackson
The T210 Old Mill Joe Jackson is a rare card. There are only six registered by PSA. Reportedly, only ten exist overall.
There are 640 cards in the set, and they measure 1 ½" x 2 ⅝". It is the largest tobacco card issue of the 20th century. The set was split into eight series.
Joe Jackson is posed with his hands behind his back, a hat, and an overcoat. He is shown on the minor league team, the New Orleans Pelicans. The cards are recognizable by the sepia tone and red border.
The red border is easily chipped and worn. The cards are condition sensitive overall. 
Of the few available Joe Jackson cards, the highest graded card registered is a PSA 3.5. That card sold for $600,000 in 2019.
1913 National Game Joe Jackson
There are 54 cards in this set measuring 2 ½" x 3 ½". The set was designed as a card game. There are options for the game on the top and bottom of the card. Jackson's cards have "Foul Fly" on the top and "Out" on the bottom. Jackson is pictured with a bat over his shoulder. The backs are filled with a floral design, the patent date, and details for the game.
A Mint condition card is estimated to be worth $3,500. Low graded cards can be purchased for under $100.
1914 Cracker Jack Joe Jackson
With 144 cards in the set, they measure 2 ¼" x 3". Jackson is shown at bat in Cleveland uniform with a beautiful red background. The backs have a brief biography on top, and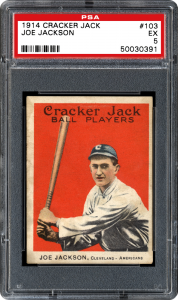 on the bottom there are details about the set.
The cards were printed on thin stock, and they were included in a package of Cracker Jacks, a molasses covered popcorn. The two factors combined for stains, creases, dents, etc., and conditions are very sensitive for this set.
Jackson has one of the most expensive cards on the set. There are individual cards registered at a PSA 6, 7, and 8 respectively, but grades such as a PSA 3 are much more commonly brought up for sale. A PSA 8 is estimated by PSA to sell for $200,000. Meanwhile, PSA 3's have steadily risen in value from $15,275 in 2011 to $47,376 in 2018. In 2019 a PSA 2 sold for $60,580.
1915 Cracker Jack Joe Jackson
The front of this card is identical to the 1914 rendition by Crack Jack. The back of the card is similar, but it is printed upside down.
Again, the paper stock was thin and many cards were inserted into Cracker Jacks, but there was a highly prized factory set available by mail.
As a result of the factory set cards, there are more higher-graded cards available today. This cuts prices in half, while opening the availability of capturing a Mint condition card.
PSA 8's have done well. While one sold for $51,518 in 2006, there have been four sales where PSA 8's sold for over $100,000 between 2016 and 2019.
1916 M101-4 Sporting News Joe Jackson
Sporting News released this set. The backs feature the Sporting News brand, a blank back, or a variety of advertisements. There are 200 cards, and they measure 1 ⅝" x 3". A PSA 6 of Jackson sold for $11,400. A PSA 8 is valued at $75,000.
1916 M101-5 Sporting News Joes Jackson
The main difference between these two sets is that the M101-5 comes with blank backs. It can be difficult for many cards to distinguish between a M101-4 blank back and an M101-5. This is not the case for Joe Jackson because he is at #87 in M101-4 and #86 M101-5.
The price estimates are nearly identical. A PSA 8 sold for $84,000 in 2017, which may influence the projected price of a M101-4 PSA 8 if it were sold today.
Conclusion
Considering the Black Sox Scandal, there are several other factors not stated here. Many continue to fight for Jackson's induction. The U.S. House of Representatives even passed a motion of support for Jackson in 1999.
The debate will continue. In the meantime, Jackson has some intriguing cards. He was clearly an influential player, and he put up excellent batting averages. His cards are sought after as a result. To have a Shoeless Joe Jackson card is to have a piece of baseball history.