Trading cards for golf have never captured the imagination of fans and collectors like other sports. Even within the memorabilia hobby for golf, the trading cards have never grabbed hold. More popular and valuable are a variety of signed and unsigned golf balls, tees, shirts, pictures, flags, shoes, and clubs. A variety of memorabilia are game used and fetch hefty prices.
As an example, one of the more famous cards is Tiger Woods rookie card from Upper Deck in 2001. A Gem Mint Tiger Woods rookie card sells for about $60 on eBay from reputable sellers. Furthermore, the prewar golf trading cards sell for hundreds of dollars for the best cards in high grade, which is reasonable when compared to the occasional million dollar selling point of very early baseball cards. There are a few notable exceptions of very expensive golf cards.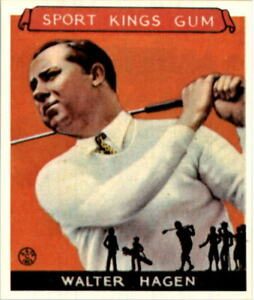 Simply put, golf cards do not have a strong appeal today. Packs, boxes, and crates of modern cards sell for cheap. Pre-War cards remain valuable historical items of the era, but vintage golf cards mostly do not compete with other sports.
However, an investment opportunity is not everything to all collectors. The exceedingly good news is that a collector with a passion on a budget can collect awesome cards at low prices. It is possible to have high grade cards of legendary golfers for hundreds of dollars instead of thousands (or millions). A collector can grab a Tiger Woods and a Jack Nicklaus in high grade while staying below $100. The affordability of emotionally appealing cards in golf is tremendous.
This article hopes to take you through some of the basic sets and information. It is a brief article that hopes to highlight a few key sets.
1900 Cope's Golfers
This tobacco set contains 50 cards, and they measure at 1 ⅜" x 2 ⅝". A company out of Liverpool and London called Cope Brothers & Company produced the set.
The fronts have colored cartoon images of golf with the card name and number on the bottom. Titles range from a player's name to scenes such as "An Anxious Moment" or "A Long Putt." The backs of the cards feature a checklist.
An interesting fact about these cards is that they often appear trimmed when they are not. The cards were cut in a certain way to fit their unique packaging that makes them appear trimmed today. Given the controversies and the recently discovered frequency of trimming, these cards should be bought with care.
Given their age, these cards can sell for a thousand dollars in Mint condition. Most common options for sale will be at a PSA 7 or lower for a few hundred. The technical rookie cards of Tom Morris Sr. and Tom Morris Jr. sell for several thousand dollars in Mint condition.
1910 T218 Champions
Many prominent golf cards are members of pre war multisport sets. The T218 has 153 cards, and it mostly consists of boxers and track champions, with a few swimmers, bowlers, aviators, pool players, baseball players, and roller skaters added on. The golfers and boxers are the more popular cards from this set today.
The cards were produced by the American Tobacco Company (ATC). For some backstory, ATC began facing foreign competition from Turkish, Greek, and Egyptian tobaccos. To compete, ATC created "blended" tobacco which featured Turkish and Virginian tobacco together. One of these brands, Mecca cigarettes, came with the T218 that featured the golf players.
The cards have many types of errors, scarcities, and variations which makes the set an interesting pursuit for a collector today.
There were six golfers in the set: Alex Smith, F. Herreshoff, Findlay Douglas, George Low, Gil Nicholls, and Jack Hobens. The estimated value of their cards is $500 at a PSA 8.
1933 Goudey Sport Kings
Goudey Sport Kings from 1933 is one of the most famous multi-sport sets. It has some legendary cards from Babe Ruth, Ty Cobb, Carl Hubbell, Knute Rockney, Jim Thorpe, Howie Morenz, and so on. The four golfers, Walter Hagen, Gene Sarazen, Bobby Jones, and Babe Didrickson are boosted by association.
There are 48 cards in the set, and they measure at 2 ⅜" x 2 ⅞". There are several sports from aviation, tennis, horse racing, to dog sled racing.
The golfers are not the most expensive cards on the set, but they are heavily sought after as valuable golf cards. For a Mint condition card, these golf cards cost between $16,500 for a Gene Sarazen and $30,000 for a Bobby Jones.
1981 Donruss Golf
The 1981 Donruss was the first modern release of golf cards. Until this set, golf cards are mostly scattered throughout sets. There are 66 cards in this set with 60 golfers numbered and 6 "Statistical Leader" cards unnumbered.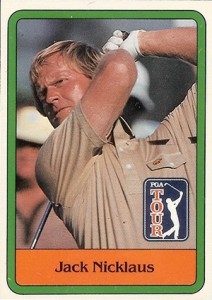 They are straightforward cards with a white border which leads into a green rounded frame. The cards have an action shot with the golfer's name on the bottom. The PGA Tour logo sits to the side. The backs show a few stats, a brief career biography, and a few facts about the golfer (height, weight, home, birthday, etc.)
Centering is a major issue. The cards are the rookies of all the players, and they remain very affordable today. Even a higher grade of a Jack Nicklaus RC sells for about $50.
1998 Champions of Golf
This set features the winners of the Augusta Masters Championships. Grand Slam Ventures, the producers of the set, begin the set in 1934 with Horton Smith. Obviously, the set features many golf legends. There are two versions of the set: a limited edition gold foil version and the base version.
The big find of the set is Tiger Woods who had won in 1997. This is considered Tiger's rookie card. According to PSA, a Gem Mint Tiger Woods sold for $64,316 in 2019.
2001 Upper Deck
There are 200 cards in this set of standard size. The set delves into Tiger Woods early career, pays homage to golf legends, and features over a dozen cards on Jack Nicklaus alone.
Some consider this a Tiger rookie card as well. However, it is far less expensive than the above as this one sells for about $60 in Gem Mint condition.
2014 Exquisite Golf Collection
Upper Deck continued its pursuit of high end cards. There are six cards to each pack in the set. Five of the cards are autographed by a tour pro. Additionally, each card comes with a swatch from a game worn shirt.
The packs were sold for $650 upon release. It has not grown much at all in value today, and they sell for about $700 today. The main draw is to grab a Rory McIlroy rookie card with an autograph and swatch. His RC is worth about six to eight hundred dollars in Gem Mint condition.
Golf Trading Cards Today
Though often left to the side by producers and collectors, golf cards bring value to the sports card trading community. There are many vintage sets that have historical value, golfers are valuable members of major multi sport sets, and a few modern cards are quite valuable.