Bronislau "Bronko" Nagurski was born in 1908 in Ontario, Canada.  As he grew up, he worked on his parents' farm, grocery store, and lumber mill, so by the time he was a teenager, he had a developed build. He was also 6ft 2in, and he is remembered for his power and size.
Clarence Spears, head coach of the University of Minnesota, discovered Nagurski and recruited him. The legend goes that Spears was on his way to scout another player, and he spotted Nagurski plowing a field by himself. Spears asked him for directions, and Nagurski lifted the plow to point. Spears signed him on the spot.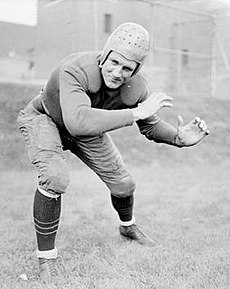 Nagurski turned heads as a defensive tackle and as a fullback from 1927-1929. He was chosen as a consensus All American fullback, and many publications listed him as an All American tackle. He was inducted into the College Football Hall of Fame in 1951.
Nagurski played for the Chicago Bears from 1930 to 1937, and with 3,947 rushing yards, he helped the Bears win two NFL Championships. Nagurski was an imposing figure as a fully grown man in the NFL. He weighed around 235 pounds during his career, his ring size of 19 ½ was the largest ring size for an NFL Championship, and he wore a size 8 helmet. For even better perspective, Nagurski was larger than most linemen at the time.
Additionally, he completed 36 of 80 attempted passes, he was known as "The Monster" on defense, and he also spent time as an offensive tackle. The famed sportswriter of the time, Grantland Rice, once wrote, "Who would you pick to win a football game? 11 Jim Thorpe – 11 Glen Davises – 11 Red Granges – or 11 Bronko Nagurski's? The 11 Nagurski's would be a mop-up. It would be something close to murder and massacre. For the Bronk could star at any position on the field…"
As a final complementing note, Nagurski was a highly successful wrestler. After retiring from football, Nagurski won the world title in 1939. He continued to wrestle professionally until 1960.
Nagurski was elected to the Pro Football Hall of Fame in 1963. The multi talented Nagurski is remembered as one of the best football players ever. Unfortunately, his cards are severely limited. His rookie card from 1935 is one of the most valuable cards in football, but the remaining cards are limited to a wrestling card, stamps, and matchbooks.
1935 National Chicle Bronko Nagurski Rookie Card
The 1935 National Chicle is an important set for football. There are few pre war sets, and the 1935 National Chicle helps to cover some great players such as Nagurski. It is considered the most important vintage set for football as the first major production of football cards.
Rare cards proliferate the set with players like Dutch Clark and Ken Strong, as well as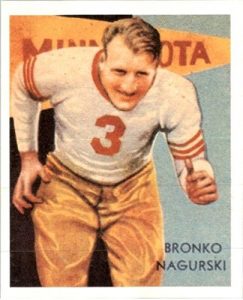 coach Knute Rockne. Nagurski's card is the most valuable, popular, and cherished on the set.
There are 36 cards in the set, and they measure 2 ⅜" x 2 ⅞". It is lauded for its artistry, and Nagurski is shown hunched over in running form. He is in his Minnesota uniform, and a Minnesota banner is blocked in the background.
The set was originally 24 pieces, and Chicle later expanded it to 36. Nagurski is at card #34, so he was added later. Nagurski's card was short printed.
The entire set is fairly rare. Nagurski has 159 cards registered by PSA. There is only one graded as high as PSA Mint 9. The price of the Mint 9 is hard to determine due to rarity. PSA estimates that a Mint card would sell for $750,000 today. Furthermore, an SGC 96 sold for $240,000 in 2006, and a PSA 9 was sold for $350,000 in 2011.
Even PSA 8's sell infrequently. The most recent sale of a PSA 8 found was for $66,354 in 2008. The most recent sale of a higher graded card was $50,000 in April of 2019 for a PSA 6. Two PSA 1's sold for $3,000 in 2019.
1955 Parkhurst Wrestling Bronko Nagurski
This is the only other official card of Nagurski, and it comes from a minor producer in Parkhurst in Nagurski's secondary sport. There were 121 cards in this wrestling set. Most of the cards are cheap today, and Nagurski's card is by far the most valuable.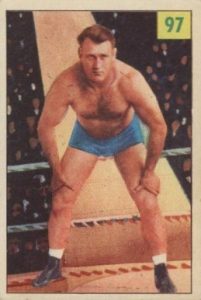 The set has not been preserved well. There are only 10 to 20 cards  of each wrestler registered by PSA. Collectors saved more Nagurski cards, and there are 55 registered. The highest graded sale found was for a PSA 7.5. It was sold for $1,036 in 2018.
Other Nagurski Memorabilia
Since Nagurski's cards are so few, some collectors seek memorabilia like the Diamond Matchbook Covers. Nagurski is pictured with a short bio on the inside of a matchbook. They were issued by Diamond Matchbook from New York.
The conditions are extremely difficult given their utility. The best copies have unused matches, but most are very beat up.
Nagurski was one of many athletes featured. Given his popularity and lack of memorabilia, Nagurski's copies are the most valuable. The more abused matchbooks sell for about $100, and the price can go up.
Another example is the 1938 Dixie Lids which were the lids for ice cream containers. Again, many stars were used, and the conditions are extremely sensitive. They have similar prices to the matchbooks.
Lastly, Kellogg created stamps in 1937 of Nagurski. They were produced either individually or a four in one design with perforated edges. Price estimates range from $50 to $150.
Conclusion
Though his representation in trading cards is short changed, there is the 1935 National Chicle at the least. Nagurski was one of the best all around and bruising players in football history, and we are lucky to have a solid card and a few trinkets to commemorate his power.