Bobby Layne (1926-1986) is one of the great quarterbacks of the 1950s NFL. He was drafted by the Bears, spent most of his career and peak with the Detroit Lions, and finished his career with the Pittsburgh Steelers.
As a member of the NFL 1950s All-Decade Team, Layne accomplished the following all within the 1950s: three time NFL Champion, three time First Team All Pro, four time Second Team All Pro, two time passing yards leader, and the passing touchdowns leader.
His career statistics are quite unimpressive by today's standards, but at the time, they were quite remarkable. Over his career, Layne has 196 touchdowns, 243 interceptions, 26,768 passing yards, and a 63.4 QB rating.
Layne was born in Santa Anna, Texas. He was moved to Fort Worth, Texas, but his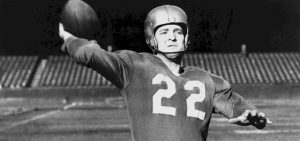 mother died when he was eight, so he moved in with his Aunt and Uncle.
He made a name as a quarterback at Highland Park High School. Layne was named All State as a senior.
One of his teammates was Doak Walker, who would be the 1948 Heisman Trophy winner and an important Lions teammate to Layne in later years. Walker would say, "Layne never lost a game… time just ran out on him."
Due to shortages from World War II, the rules were briefly changed to allow Freshman to start in the NCAA. Layne was a rare example of a college player who started all four years.
After his freshman year, Layne served with the Merchant Marines, and he returned to the Longhorns after missing six games in his sophomore year.
The Longhorns would only continue to be successful. Layne was named Second Team All American in 1946 and Consensus All American in 1947. He would leave college football with many records for the University of Texas, the Cotton Bowl, and the NCAA football.
Meanwhile, Layne was one of the best pitchers ever for Texas. He also left the University of Texas with many baseball records.
After a year in the minors, Layne was offered contracts by the New York Giants, the Boston Red Sox, and the St. Louis Cardinals. He only opted for the NFL because he could play right away.
The third pick of the 1948 NFL Draft and the second pick of the 1948 AAFC Draft, Layne went for the NFL. He did not play until a series of trades led him to the Detroit Lions in 1950.
As mentioned above, Layne was the great quarterback of the 1950s. In intense competition with the Cleveland Browns, the Lions won three championships in the 1950s, including a back to back.
Layne was traded to the Steelers, where he played five more seasons, but he never had the same team or personal success. He retired from the NFL with dozens of records.
Layne's jersey was soon retired by the Detroit Lions and the Texas Longhorns. He was inducted into the College Football Hall of Fame and the Pro Football Hall of Fame. Let us take you through the major cards of the best quarterback of the 1950s.
1948 Leaf Bobby Layne Rookie Card
The 1948 Leaf is a major set in football cards, and it is the first major set after World War II. There are 98 cards which are separated into two series, and they measure 2 ⅜" x 2 ⅞". The set has an attractive style of black and white photos against a color background.
There are many rookie cards since this is the first football set in a while. Major rookies, in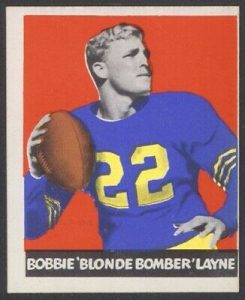 addition to Bobby Layne, include Sid Luckman, Doak Walker, George McAffee, and Jackie Jensen.
In the PSA registry, there are 69 Bobby Layne cards, 17 with Red Pants, and 192 with Yellow Pants. Across the cards, there are none in Mint condition.
A Red Pants PSA 8 copy sold for $35,951.47 in 2010. A more recent sale of a Red Pants copy was for $4,276.80 in June of 2020 for a PSA 7.
The Yellow Pants seem less expensive, but due to the infrequency of sale it is hard to determine by how much. A PSA 7 sold for $1,776 in 2017, but it has not been sold since. Also, the last sale of a PSA 8 was for $12,700 in 2018.
1949 Leaf Bobby Layne
The 1949 Leaf was a lackluster set with only 49 cards that measured 2 ⅜" x 2 ⅞". The design was mostly the same, and the players were mostly the same as the 1948. However, the population and prices are much different.
Prices drop between the sets. PSA has records of 2,718 sales of 1948 Leaf cards for a total of 1.4 million dollars in receipts. For the 1949 Leaf, PSA has 646 sales recorded for $118,083 in receipts. When most of the cards on the 1948 are rookies and then Leaf repeated almost all of the players, you are going to see a huge drop like this.
For most of the cards, there are fewer copies registered. Layne's card has 154 cards registered with PSA.
The most expensive sale of a Bobby Layne card was for $4,080 in 2018 for a PSA 8.5. Prices fall of quickly to a PSA 7, which went for $233.28 and $306 in 2018.
1950 Bowman Bobby Layne
Bowman picked up a Layne card in 1950. Their set was 144 cards with each measuring 2 1/16" x 2 ½". It is known for its full color in the post war era. Major rookie cards include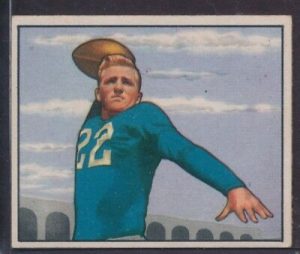 Glenn Davis, Joe Perry, Otto Graham, and Dante Lavelli. Bobby Layne is at card #37.
There are over 380 Bobby Layne cards registered by PSA. Only one of them is in Mint condition, which last sold for $11,977.99 in 2019. Since PSA 8's are so much more common, they sold for around $400 in 2020.
Conclusion
There are a few more cards and sets to look out for if you are a Bobby Layne fan. The 1952 Bowman Large and Small are interesting sets that many like, and a Layne in Mint condition can go for over 2000. Also, there are good Topps sets that cover Layne until he retires. The most important and valuable Layne cards are covered here.
While his stats might look rough today, Bobby Layne was an excellent quarterback in the 1950s. These cards can be great investments if you believe in his legacy.