Art Ross (1885-1964) played hockey in the NHL and other leagues from 1905 through 1918. As a defenseman coming in at 5 feet 11 inches and 190 pounds, Ross played for the Montreal Wanderers, the Ottawa Senators, and the Haileybury Comets.
Born in Naughton, Ontario, Canada, Ross was raised by Thomas and Marguerite Ross with eight brothers and one sister. He grew up on a trading post in which his family would hike 230 miles each way every six months for supplies. Ross learned to skate on the nearby lake.
His family moved to Montreal in 1896, and Ross attended a local school where he was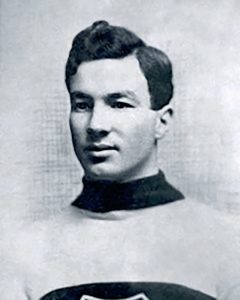 exposed to a variety of sports. Ross befriended the Patrick Brothers, Lester Patrick and Frank Patrick, at his local hockey club. The Brothers would later be inducted into the Hockey Hall of Fame.
Ross and the Patrick Brothers made names for themselves in the CAHL, which was the top amateur league. Ross was the first hockey player to skate the puck up the ice from defense instead of passing it up.
Ross moved to Brandon, Manitoba in order to pursue banking, and he joined the Brandon Elks of the MHL. Throughout his career as a player and executive, Ross was involved with ventures like banking, owning a sporting goods store, and secretarying for the Boston Braves baseball team.
New teams and leagues seemed to form and collapse frequently. Ross played in places like the MHL, CHA, the NHA, and the NHL. Yet, he only had one goal in three games played in the NHL, even though he was one of the best players of the era.
Regardless of the city, regardless of the league, and regardless of the team, Ross was one of the best on the ice at all times. Stats may be hard to compare, but he was often the highest or nearly the highest paid player on every team that he played.
Ross was undoubtedly one of the best defensemen in the history of hockey. Ironically, the leading scorer from the regular season is awarded the Art Ross Trophy.
Ross retired in 1918. Given his respect as a player, Ross was brought on as a manager for a few teams until 1954. Most notably, he coached the Boston Bruins from 1924 to 1945.
Overall, Ross's legacy is about his influence on the founding era of professional hockey. He was a great player, a high quality coach, but he was also an influential designer for the hockey rulebook.
For example, in 1927, the NHL adopted a new style of net for the goals due to his influence. The goal was used until 1984 because it enhanced the net's ability to catch pucks.
Ross was also influential on the design of the puck, including the shape and material used. Finally, Ross was instrumental in designing the red line, as well as the red line's stripes.
Ross was inducted into the Hockey Hall of Fame in 1949 for his playing career. He is a crucial part of a limited number of vintage hockey sets, and this article will take you through them.
1910 C56 Art Ross Rookie Card
Ross's cards are at number 8 and 12 on this set of 36 cards, where each card measures 1 ½" x 2 ⅝". This set is unattributed, but collectors believe that Imperial Tobacco is the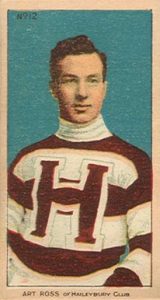 unnamed distributor. It also has the distinction as the first major hockey set.
This tobacco era set has several hockey legends including Frank Patrick, Percy LeSueur, Fred Taylor, Lester Patrick, Paddy Moran, and a few more. Given the primacy of the set, nearly every player's card is a rookie.
The set is decently well preserved given its age. For reference, PSA has 3,593 cards registered on their site. The #8 Ross card has 83 copies, while the #12 card has 94 copies.
Prices vary strongly for each card, but prices seem quite similar between the two. With a budget of $1,000, a PSA 2 is plausible for either card. The highest priced card was $13,858.43 for a PSA 4 from January 2020.
1911 C55 Art Ross
Another likely set from Imperial tobacco, this unnamed set has 45 cards that measure 1 ½" x 2 ½". Once again, there are a number of key rookies and Hall of Famers in this important vintage set.
Ross's card is at #31. Prices are fairly uneven for this card as well. With a budget of $1,000, you might find a card around a PSA 4 or 5. You would be lucky to even see a card at a PSA 7 or higher. For reference, there are only 118 of these cards registered with PSA, and the highest recorded grade is one PSA 8.
1912 C57 Art Ross
This is the last major set that covers Ross during his playing days. There are a couple
cards from after his retirement, but they are naturally less valuable.
Ross is at #20 in another unnamed set that is most likely from Imperial Tobacco. There are 50 cards in this set.
This set is less well preserved than its predecessors. For reference, PSA only has 23 Ross cards registered. Thus, this card is hardly ever sold. The most recent sale is from May of 2019 for $4,161 for a PSA 6.5.
Conclusion
Art Ross can be considered a founder of modern hockey if you consider his contributions as a player, coach, executive, and designer. He is more than a player; Art Ross is a hockey originator. Luckily for us collectors, there are a few quality cards for us to track down.