Andy Pafko (1921-2013) was a professional baseball player in Major League Baseball from 1943-1959. He is one of the best Chicago Cubs players ever with career totals of 213 home runs, 976 runs batted in, four time All Star, and 1852 games over 17 years. However, he is best known to baseball card enthusiasts as card #1 on the 1952 Topps.
Born in Boyceville, Wisconsin, Pafko was born to two immigrants from Czechoslovakia who had moved to the United States at the end of World War I. Pafko had two elder and three younger siblings, and they all worked together on a 200 acre dairy farm. Pafko grew up playing baseball with his siblings.
Since his high school did not have a baseball team, Pafko played with a local amateur league. He shined in his first season where he hit .500. Pafko was picked up by a minor league at 19, and he quickly began to develop. He spent a few years moving from minor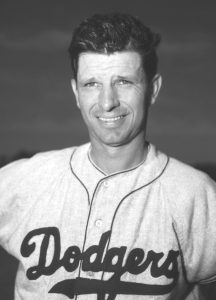 league team to minor league team. Around this time, the US had entered World War II, and Pafko was rejected from the United States military due to chronic high blood pressure.
After reading in the paper that his contract had been sold to the Chicago Cubs' farm team in Los Angeles, Pafko had gone from Class D to Class AA in about two years. Pafko stunned the West Coast, and he was picked up by the Cubs for the end of the 1943 season.
He had earned the nickname "Handy Andy" which complimented his hitting and fielding abilities. The nickname would follow him for the rest of his life.
After appearing in the 1945 World Series, Pafko would go on to be a four time consecutive All Star. Another career highlight was that he was the left fielder over which Bobby Thomson hit the "Shot Heard 'Round the World." After a brief stint with the Brooklyn Dodgers in 1951-1952, Pafko was then moved to the Boston Braves in 1953, where he helped the then Milwaukee Braves win the championship in 1957.
Once he retired in 1959, Pafko spent time managing in the minor leagues, as well as scouting. He spent the rest of his days in Chicago where the press often asked for a quote about the Chicago Cubs baseball.
For example, when the Cubs won their division in 1984, Pafko joked, "I never dreamed it would take them 39 years to win again. I thought they would have won by accident before then!" Just before Pafko died in 2013, he was one of the last two living men who had played in a Cubs World Series.
Pafko was not one of the greatest players of the century, though he was a significant member of the Chicago Cubs. He is remembered today for two main reasons. First, he was a great member of the Chicago Cubs who talked about their infamous lack of success. Second, he happened to be positioned at the #1 spot in the 1952 Topps. Let's jump right into that second one.
1952 Topps Andy Pafko
The 1952 Topps has 407 cards that measure 2 ⅝" x 3 ¾". It is one of the most important sets in baseball card trading. Pafko is a significant All Star player on the set, but he is at the #1 spot, though he is not the best nor famous player. Given the rubber band wear of the first and last positions, his card has become rarer and more valuable.
There are 1100 standard cards graded by PSA of Pafko, as well as over 600 of Black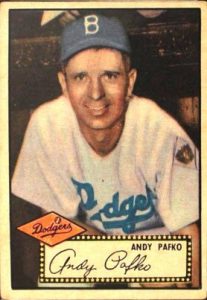 Back Pafko cards. The Black Backs do not seem to affect the prices of the cards. Top grades are scarce.
Given the scarcity of the card, the importance of the set, and Pafko's baseball career peaking in 1952, Pafko's card is very valuable. There are no registered Mint or Gem Mint cards and thus no sales, but prices are estimated to be in the hundreds of thousands for a card of top quality.
Meanwhile, PSA 8's have sold for around $50,000 for the last several years. The highest valued sale is from 2008 for $81,000. As the scarcity of the card improves with lowering the grade, $1,000 can get you a respectable PSA 5.
1948 Leaf Andy Pafko
There are 98 cards in this set that measure 2 ⅜" x 2 ⅞". The heavy hitters include Joe DiMaggio and Babe Ruth. Other anchors include Bob Feller, Jackie Robinson, and Satchel Paige.
Despite this being Pafko's rookie card, prices drop dramatically from the 1952 Topps. This is not a heavily sought after card, and there are only 224 cards registered by PSA. Mint condition cards will probably cost you about $1,000, but prices fall to several hundred at a PSA 6.
Conclusion
The rest of Pafko cards are generally considered to be common cards. His cards are still valuable as a standout of his era, but he was not exceptional or defining of his era. While he is on every major set for the 1950s, an important collecting era, his cards are worth a couple hundred in Mint condition.
Andy Pafko was a seriously good player. He is best remembered by baseball card enthusiasts as the occupier of the #1 spot on the ultra important 1952 Topps. With a placement like that, he will be remembered for generations to come.