Bob Feller (1918-2010) played for the Cleveland Indians of Major League Baseball for 18 seasons. He was with the Indians from 1936 to 1941, he served in World War II with the United States Navy, and then he played from 1945 to 1956.
Across his entire career, Feller had a 266-162 win-loss record, a 3.25 ERA, and 2,581 strikeouts. He was also an eight time All Star, a six time AL wins leader, a seven time MLB strikeout leader, and he won the Triple Crown in 1940.
Growing up in Van Meter, Iowa, Feller played baseball for his local school teams, and he was also a standout basketball player. As early as the age of 16, Feller was being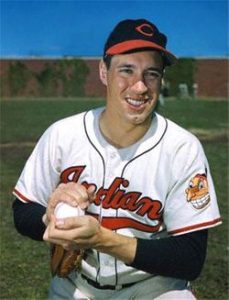 scouted by major league scouts.
He signed with the Cleveland Indians in 1936, and in July of 1936, Feller debuted as a reliever on the 19th. On August 23 of the same year, he had his first start, where he struck out 15 players and recorded a win. He was 17 years old.
After finishing the season with the Indians with more standout performances, Feller was the most famous youth in America. He returned to Iowa for his senior year of high school, and he was met by the Governor of Iowa.
This may seem somewhat "heard of" today with the occasional teenagers in soccer, basketball, and many other sports, but at the time, Bob Feller was a phenomenon, totally unprecedented, and worthy of national news. In 1937, he was on the cover of Time magazine, and his high school graduation was nationally broadcast on the radio by NBC.
Feller continued to live up to his reputation over the next twenty years. He was probably the best pitcher of his era.
His fastball is the stuff of legend. The MLB Commissioner at the time ordered that Feller's fastball ought to be tested to see its speed. The Office of the Commissioner used a Harley-Davidson motorcycle to try to estimate the speed. At the time, they figured that Feller pitched at 98.6 mph. Modern estimates put Feller's fastball at 104 mph.
With regards to his legacy, Feller was widely respected by his peers. For example, Ted Williams called him the "fastest and best pitcher I ever saw during my career," and Stan Musial called him the greatest pitcher of the era.
Feller has the remarkable achievement of pitching three no-hitters. He also threw twelve one-hitters.
Another interesting tidbit about Bob Feller was that he was the first American professional athlete to enlist after the attack on Pearl Harbor. Although he was offered an exemption due to a dying father and he was offered peaceful marketing positions, Feller insisted on seeing combat, which he did. This only furthered the immense respect and fame that he garnered from the American people in general.
The Cleveland Indians retired his number 19, and they inducted him into their Hall of Fame. Feller was inducted into the Baseball Hall of Fame in 1962 with 93.75% of the vote on the first ballot. At the time of his induction, only three players had a higher percentage of the vote.
Feller played during a great era of baseball card collecting. This article will take you through some of the best.
1938 Goudey Bob Feller
The 1938 Goudey set has 48 cards that measure 2 ½" x 3". It is referred to as the "Heads Up" set because the enlarged heads are superimposed on cartoon bodies. The set begins the numbering system at 241, as if it were a continuation of the 1933 Goudey.
Bob Feller is featured twice at #264 and #288. The cards have the same picture and layout on the front, but the #288 has extra graphics surrounding the picture of Feller. He is a key to the set, along with Joe DiMaggio, Jimmie Foxx, and Al Lopez.
These cards are decently well preserved. For reference, PSA has 153 copies of the #264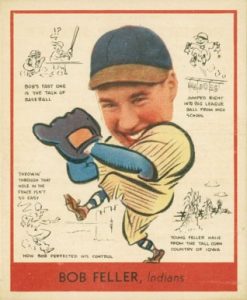 registered and 196 copies of the #288 registered. None of these cards are in Mint condition.
The #264, which is the card without the extra graphics, sold for $15,000 in August of 2020 for a PSA 8. Prices are somewhat erratic since the card is not sold very often, so with a budget of $1,000, you could get around a PSA 3 through 5.
Five days after the previously mentioned sale of the #264 PSA 8, a #288 PSA 8 sold for $12,600. It may seem safe to assume that this is the cheaper card, but, when you look at the older grades, you may be hard pressed to find a higher quality copy than a PSA 3 with a budget of $1,000.
1948 Bowman Bob Feller
Baseball cards returned in the post war era in 1948 with competing sets from Bowman and Leaf. The 1948 Bowman is a black and white set that had 48 cards which measured 2 1/16" x 2 ½".
Bob Feller sits at card #5, and he is a key to the set. Yogi Berra, Warren Spahn, and Stan Musial are some of the major stars on this loaded set.
The number of cards can start to rise for different sets in the post-war era. The number of Feller cards from this set that are registered with PSA jumps to over 1,000.
This card has been sold much more frequently at auction. The most recent sale of a PSA Gem Mint 10 card was from 2017 for nearly $12,000. With a budget of $1,000, you may be able to find a Mint copy, but you would probably have to settle for a PSA 8.
1948 Leaf Bob Feller
The 1948 Leaf is an important early set, and it is well noted for its colorful design, especially in contrast with the Bowman of the same year. There are 98 cards in the set, and they measure 2 ⅜" x 2 ⅞".
There are only 116 of these cards registered with PSA, and the card is not up for sale often.
With a budget of $1,000, you would be lucky to find a card of any grade, except for a PSA 1. The most recent sales of a PSA 8 have come in 2017, 2018, and 2020, and those PSA 8 cards have gone for $43,200, $38,400, and $45,000, respectively.
1952 Topps Bob Feller
The 1952 Topps is one of the most important sets in the hobby. There are 407 artful cards that measure 2 ⅝" x 3 ¾".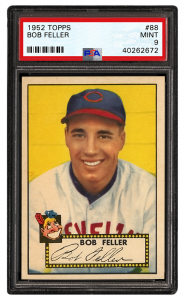 Feller was exiting his prime and nearly retired, but he remained an important part of this historically significant set. He sits at card #88.
Feller was a popular player, so there are about 1500 cards registered with PSA. While a Mint condition card can sell for $8,000, a budget of $1,000 might grab you a PSA 8, but it will for sure secure you any grade lower.
Conclusion
Bob Feller was more than a baseball player. He was an American icon. By starting a successful baseball career so young, volunteering early for the most important conflict of the century, and maintaining a consistent Hall of Fame career for decades, Bob Feller guaranteed himself a high status spot in baseball history with Americans.
He played during a great transition era of baseball cards as well. Collectors have a few oddball options in the pre-war era, and Feller was a key on some ultra-important early Leaf, Bowman, and Topps sets that help define baseball card standards. This article took you through a few of the best cards for Feller out there, and these cards do a great job of representing an American icon.